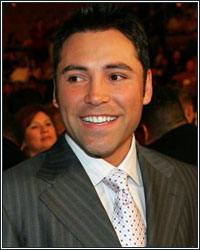 Former UFC women's bantamweight champion Ronda Rousey's 2nd round knockout loss to former women's boxing champion Holly Holm sent shockwaves across the sports world. Considered possibly the biggest upset in UFC history, Rousey was heavily favored to win the contest, but she was surprisingly dominated throughout most of the contest and finally stopped with a well-placed kick to the head by Holm.

Just a couple of weeks prior to the fight, it was revealed that Rousey would grace the cover of the latest edition of Ring Magazine. Many fans and media in the boxing community didn't like the idea of a mixed martial arts fighter being featured on the cover of a magazine solely devoted to boxing. Golden Boy Promotions founder and Ring Magazine owner Oscar De La Hoya stood behind his decision to put Ronda on the cover, defending his stance to FightHype.com just hours before the Rousey vs. Holm showdown. Rousey's loss, however, once again reignited those who were opposed to it.

Earlier today, De La Hoya was on Good Day LA on Fox promoting this Saturday's upcoming Miguel Cotto vs. Saul Alvarez showdown when he was asked for his thoughts on Rousey's loss.

"Well that's what happens when you've faced the best. Look, it happened to Muhammad Ali; it happened to the very best. When you take chances, when you dare to be great, then you're going to get beat at some point in your career. That's what happens. I mean, she didn't want to take the easy route and just fight anybody. Good for [Holly] Holm," said De La Hoya, who commented on the surprising result.

Despite the loss, De La Hoya said that he would still be interested in working with Rousey if she decided to make a venture into boxing. He also thinks Rousey will take the rematch with Holm and come back even more focused.

"You know this, when fighters taste success, the hype around them, sometimes they forget about the training. They're thinking more about their interviews and the whole Hollywood thing. It's so distracting. And I can guarantee you that if they have a rematch, I don't know, who knows, it might be a whole different story, but I'll tell you one thing; Ronda's going to be focused and determined. That's what makes it fun," De La Hoya explained.

As for Holly Holm, Oscar feels she should stay put in MMA and capitalize on her opportunities there instead of returning to boxing.

"I think at this point right now, [she can make more money] as an MMA fighter. There's a lot of hype around her now. The rematch would be huge here in the States. So yeah, it would be very interesting. She's such a classy lady. I love it."
[ Follow Luis Sandoval on Twitter @Truewest007 ]