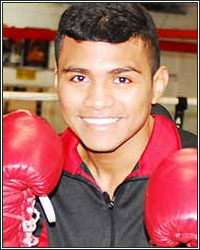 Consensus #1 Pound-for-Pound Fighter and World Boxing Council Flyweight Champion, Roman "Chocolatito" Gonzalez will defend his title against world ranked Puerto Rican McWilliams Arroyo on Saturday, April 23 at the Fabulous Forum in the co-featured bout to the World Middleweight Championship between Gennady "GGG" Golovkin and Dominic "Lights Out" Wade, it was announced today by K2 Promotions. Both bouts will be televised Live on HBO World Championship Boxing® beginning at 10:00 p.m. ET/PT.

Tickets for the April 23rd event priced at $400, $300, $200, $100, $60 and $30, will go on-sale Tuesday, February 16 at 12:00 p.m. PT through Ticketmaster (Ticketmaster.com, 1-800-745-3000) and the Forum Box Office. Gonzalez vs. McWilliams is presented in association with Teiken Promotions and PR Best Boxing.

Said Gonzalez, "I want to thank God, Teiken Promotions, especially my father Mr. Honda, HBO, K2 Promotions, and my family, and my team for helping me once again obtain the opportunity to fight representing my country and my fans. God bless!!"

About his second world title opportunity, Arroyo stated, " I am very happy with this opportunity to fight for the world title again. We were confident that this fight would come and now is the time to continue training to bring this title to Puerto Rico. We know that Roman Gonzalez is a great fighter, one of the best today, and we will get in the best condition to win that belt. It is our dream to be world champions, my brother (McJoe, IBF superflyweight champion) and I, and I know we will get it done."

"Having Roman paired with Gennady was a winning combination in 2015 as both fought in front of huge crowds in Los Angeles and New York City," said Tom Loeffler, Managing Director of K2 Promotions. "Roman has a very fan-friendly style and we're pleased that following his HBO debut in May at the Forum, he was recognized as the #1 Pound-For-Pound Fighter by most of the major media platforms worldwide."

"McWilliams Arroyo brings a great deal of confidence and skill into this battle, wanting to join his brother McJoe as a world champion."

"We were thrilled that the sport's consensus number one pound-for-pound fighter Roman "Chocolatito" Gonzalez made his debut last year on the network and subscribers were able to see his incredible ability and personality," said Peter Nelson, Executive Vice President, HBO Sports. "We are delighted that "Chocolatito" will be once again be paired with a Gennady Golovkin event that will be featured live on HBO."

Commented Peter Rivera of PR Best Boxing Promotions, ""We are grateful to be working with K2 Promotions in this great event. We know it's going to be a great fight, everyone knows Chocolatito and McWilliams, so the only thing to expect is an exciting fight. We are confident in McWilliams' skills, in his preparation, and hopefully he will be crowned like his brother McJoe."

The 28-year-old Gonzalez, 44-0-0 (38KO's), captured the passion of boxing fan's worldwide in 2015 making his HBO debut and fighting in front of over a combined 33,000 fans in Los Angeles and New York City.

On May 16, Gonzalez scored a second round knockout over former world champion Edgar Sosa at the Forum in Los Angeles, an electrifying performance that was hailed as star-making by the boxing media.

Debuting in New York City on October 17 at a sold-out Madison Square Garden, Gonzalez dominated four-time world champion Brian Viloria heading towards a ninth round stoppage. Displaying world class skills and outstanding combinations, Gonzalez thrilled the crowd throughout the fight.

Twin brother of IBF Super Flyweight Champion, McJoe Arroyo, the Fajardo, Puerto Rico native McWilliams brings a record of 16-2-0 with 13 knockouts into his second world title fight.

On September 10, 2014, Arroyo traveled to Nakhon Ratchasima, Thailand, to challenge IBF Flyweight Champion Amnat Ruenroeng. Despite dropping the champion in the sixth round, Arroyo was denied the title in a very close, controversial split-decision.

Arroyo followed up the world title fight by stopping Victor Ruiz in the third round on April 11, 2015 in San Juan, Puerto Rico.

SOCIAL MEDIA: For more information, visit www.K2Promos.com, www.GGGBoxing.com, www.TGBPromotions.com, www.FabulousForum.com and www.HBO.com/boxing.

Follow on Twitter at Gennady Golovkin @GGGBoxing, Dominic Wade @_DomoWade, Roman Gonzalez @chocolatitobox, Tom Loeffler/K2 Promotions @TomLoeffler1, TGB Promotions @TGBpromotions, the Forum @theForum and HBO Boxing @HBOBoxing and become a fan on Facebook www.facebook.com/GGGBoxing, www.facebook.com/TheForum and www.facebook.com/HBOBoxing.

Use the hashtags #GolovkinWade and #GonzalezArroyo to join the conversations on social media.