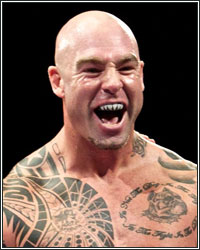 Earlier today, Lucas "Big Daddy" Browne stopped former champion Ruslan Chagaev in round 10 of their WBA World Heavyweight championship clash in Grozny, Russia. The huge Australian, who has been fighting out of Europe under Ricky Hatton's Hatton Promotions, got off the deck and eventually landed his own crushing right hand in the 10th, sending Chagaev to the canvas. Although the former champion bravely made it to his feet, he was clearly on shakey legs. Browne siezed the opportunity to pile on the pressure with a flurry of punches, which forced referee Stanley Christodoulou to step in and wave the fight off.

Browne was behind on the scorecards going in to the 10th round and needed something spectactular to change the tide. As Chagaev teed off with a shot of his own, Browne landed a massive right hand which proved to be the game changer. Chagaev was having a relatively good performance through the first six rounds, which saw him put Browne on the canvas from a big left hand. Unfortunately for Chagaev, he was unable to close the show in the 6th and dropped his tempo slightly, appearing to be gassed after using all his energy trying to secure the knockout finish. Chagaev even threw a couple of shots immediatley after the bell, but his power and timing most definietly dropped after that round. That gave Browne time to compose himself and recover, teeing off with big shots of his own in an attempt to get himself back into the fight. Browne used good lateral movement, perhaps in an attempt to wear Chagaev down, and bided his time as he looked to set a trap. Chagaev looked so exhausted, however, that Browne could have probably got a stoppage earlier if he had put the pressure on sooner.

BRADLEY SKEETE DEFEATS SAM EGGINTON VIA UNANIMOUS DECISION

In Birmingham, England, welterweight Bradley Skeete captured the British and Commonwealth titles by winning a unanimous decision victory over Sam Egginton in front of his hometown fans at the Genting arena. Skeete has had a resurgence in form, stopping three of his last four opponents since his defeat to another Birmingham man, Frankie Gavin. The first four rounds were very close and even. Egginton plodded forward to apply pressure, looking to load up as Skeete was working nicely behind a jab and moving laterally. It was that movement and timing through the middle rounds that gave Skeete the advantage in this fight as he frustrated Egginton, potshotting with his jab and some decent straight right hands. He started to showboat slightly to signify his advantage and had a lot of success with the pull counter, using that long reach to tag Eggington from range before moving out of range. As the fight approached the championship rounds, Egginton was told he needed to go to war and force the action more, which he tried and had some success, but Skeete was slick and methodical in his approach and stuck to his game plan. After appearing to have taken a round off, Skeete had the stamina and intelligence to nullify any remaining Egginton charge in the final two rounds.

OTHER ACTION

Kal Yafai knocked out Dixon Flores inside the first round. Yafai dropped Flores in the first 30 seconds and closed the show with a devestating left hook to the body to capture the WBA Inter-Continental Super Flyweight title. The win surely puts him in position for a world title shot in the near future.

Kal's brother, Gamal Yafai, captured the Commonwealth Super Bantamweight crown by stopping Bobby Jenkinson in the 7th round.

Marcus Ffrench stopped undefeated Michael Rooney inside 45 seconds with a beautifully timed right hand in the lightweight division to capture the Midlands title in a battle of the Brummies.