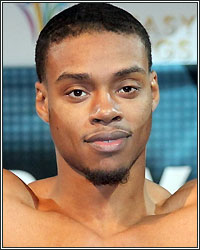 "It's annoying that Keith Thurman and Danny Garcia keep writing me off. I don't think Keith Thurman had anything to say recently. I put on a better performance than he did against Bundu. If you look at Keith Thurman's face after the fight, he was all bruised up and swollen. If you look at my face after the fight, I went out that same night and hung out with my guys," stated undefeated top welterweight contender Errol Spence Jr., who made it clear that he's getting annoyed and frustrated about the fact that other welterweights, namely Keith Thurman and Danny Garcia, seem reluctant to even discuss the possibility of fighting him. As far as Spence is concerned, his performances against common opponents proves he's ready to face any of the top names in the division.

"Even Chris Algieri. You see how Chris Algieri did with Amir Khan and then you see how I did Chris Algieri. That was a real close fight against Khan. They were going at it and I made it a one-sided fight against Algieri. Danny Garcia about to fight a guy that I stopped in the 4th round and it was one-sided as well. I'm looking forward to seeing what Danny does in that fight and if he could stop him before I did," Spence explained during a recent conversation with FightHype.com. "But yeah, it gets frustrating when they keep writing me off. They try to find a reason why I'm not ready for them or the top guys and that does get kind of frustrating. But I'ma get there. I'm right in line and once I get this title, we will see if they have another excuse why they shouldn't unify the belts with me. Hopefully Danny and Keith fight each other and then I'll fight the winner."

CLICK HERE TO READ THE FULL INTERVIEW WITH UNDEFEATED TOP WELTERWEIGHT CONTENDER ERROL SPENCE JR.
[ Follow Percy Crawford on Twitter @MrLouis1ana ]