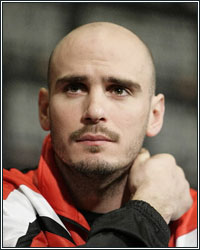 "I would hope so (laughing). That is a higher ranking than even winning a world title. I'm not sure, but I think they have me up for the 2018 ballot. I would hope so," stated former undisputed middleweight champion Kelly Pavlik, who talked about whether or not he'd make it into the International Boxing Hall of Fame. It's been nearly five years since Pavlik's last fight, making the 35-year-old eligible for nomination as early as next year. Although his career ended sooner than most expected, Pavlik makes a strong case as to why he should be under consideration for the prestigious honor. Check out what he had to say!

KELLY PAVLIK ON WHY HE SHOULD BE CONSIDERED FOR THE HALL OF FAME:

I was 40-2 with 34 knockouts. My 2 losses were to future Hall of Famers; Hopkins for sure and probably Martinez as well. I think that's a pretty good record. I beat top guys and not only did I beat them, I knocked them out, stopped them. If you go back and look at a guy like David Lemieux, who is a tough fighter and he's fighting top guys right now, but if you go back, I fought Rubio back in 2009 and I think it was like 3 years later, Lemieux, he was 25-0 with 25 knockouts at the time and Rubio stopped him. That was Lemieux's first loss. So if you kind of want to use a measuring stick, I stopped Rubio in 7 rounds way back in 2009.

And if you want to go back and look at how bad I got my ass whooped by Hopkins and how much of an off night I had, people go, "Styles make fights," but Jermain Taylor, controversial or not, Taylor was in good, close fights with Bernard Hopkins and beat him twice. I knocked Jermain Taylor out and then beat him by unanimous decision. I think that goes to show you that if you don't think the fight I had with Bernard Hopkins was an off night, then maybe you would have to go back and restudy that. I hope though, man. Maybe you guys can use your pull and swing a couple of votes my way (laughing). We will see. It would definitely be an extreme honor to be considered and even more of an honor to be inducted.
[ Follow Percy Crawford on Twitter @MrFighthype ]