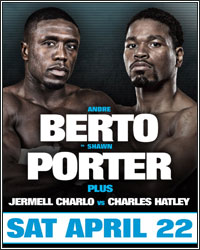 Shawn Porter (27-2-1, 17 KOs) can once again set his sights on a showdown with unified welterweight world champion Keit Thurman with a ninth round stoppage of Andre Berto(31-5, 24 KOs) in their WBC world title eliminator at Barclays Center in Brooklyn in front of a crowd of just over 9,000. The official time of the stoppage was 1:31 of round nine.

In a bruising battle of former world champions which saw both fighters dealing with cuts, head butts and elbows Porter was able to hurt Berto with a punishing body attack and then follow up with powerful right and left hooks up top. Berto nearly went down twice in the ninth round until Porter landed more unanswered blows causing referee Mark Nelson to call a halt to the bout. Berto's corner did not object to the stoppage.

The 29-year-old Porter came out of the gates looking make Berto fight on the inside by crowding and mauling him. Berto to his credit relied on his experience and managed to keep Porter off by landing short, accurate punches.

In the second round Porter was the aggressor and at times leaned in with his head which caused a cut over his left eye. Porter let his hands go against the 33-year-old Berto and was able to land an overhand right hand which sent Berto down. Berto managed to spring right to beat the count.

Porter went a bit wild in the third round throwing combinations from all angels and landing most of them. Berto tried to exchange but was clearly taking the bigger punches.

They clashed heads again in the fourth round and this time Berto walked away with a cut over his eye. Porter did a lot more fighting on the inside in the fifth round. Berto started to be more economical with his punches and landed his right hand to keep Porter from continuing to swarm all over him. Porter outworked Berto again in the sixth round and pressed the action trying to move Berto to the ropes where he can trap and hurt him.

There was yet another accidental clash of heads in the ninth and that set up Porter to land some power shots to send Berto into ropes and on his way out when the referee jumped in to separate them and end the bout.

Immediately after his victory, Porter looked over at Thurman at ringside and asked for the rematch. Porter lost a razor-thin decision to Thurman in the same building last June. Porter had not fought since. Berto's last bout was a victory over Victor Ortiz last April in California. This was only Berto's second bout since his one-sided loss to Floyd Mayweather in September of 2015. The two-time world champion is now 4-5 in his last 9 bouts.

In the evening's co-feature Houston's Jermell Charlo (29-0, 14 KOs) defended his WBC junior middleweight title by scoring a sixth round knockout of Charles Hatley (26-2-1, 18 KOs). The official time of the stoppage was: 32 seconds of the sixth round.

Charlo landed a devastating straight right hand that sent Hatley down face first under the bottom rope at Barclays Center. Referee Harvey Dock immediately called the bout off as Hatley laid motionless for a few moments. The knockout ended a tense war of words between both fighters as the mandatory title defense took longer to make then either man would have preferred. Charlo is coming off an eleven month layoff since first capturing the world title by knocking out John Jackson last May. Hatley has been out of the ring even longer. This was the Dallas native's first appearance since upsetting former world champion Anthony Mundine in Australia back in November of 2015.

"I used that jab to set up the right hand," Charlo said immediately following the victory. "I knew Charles gets back up. He's a warrior- and I knew I had to get in there and be a lion."

After a feeling out first round Charlo started to find his range in the second round and landed a straight right hand that sent Hatley flying into the ropes. That was just a prelude of what was to come next.

Charlo started to land bigger shots in the third round and threw a double jab which set up a right hook to side of Hatley's head sending him down for the first knockdown of the bout. Charlo continued to land big shots in the fourth and fifth rounds even wobbling Hatley with a straight jab. In the sixth round Hatley became more careless and as Charlo masterfully cut the ring off Hatley found himself trapped in a corner. Charlo landed the big right hand and ended the night for Hatley. According to CompuBox Charlo landed 14 of 17 power shots to begin the sixth round before landing the final and deciding punch.

Charlo credits sparring with fellow Texas native Errol Spence for preparing him for this title defense against Hatley.

"Errol is not an easy gut to hit so it helped me out a lot," Charlo added.