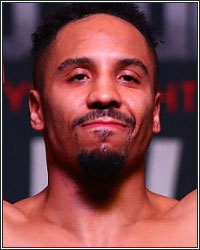 If there's anyone disputing that Andre Ward is now the top light heavyweight in the world, their arguments are based in bias and not fact. After Saturday night's eighth-round stoppage of Sergey Kovalev, Ward is top dog at 175…period.

The question for Ward is now this: What do you do when you cut straight to the front of the line and beat the baddest man in the division? Where do you go from there?

Pickings are slim at 175 right now, but let's see what we can make of Ward's options. Here are the best choices for S.O.G.'s immediate future:

Adonis Stevenson: Clearly, Ward would jump at the chance to meet the Haitian-Canadian power puncher. Not only does Stevenson bring the WBC built to the table-the only one of the four recognized world titles Ward doesn't have-but he would also deliver a nice payday to Ward for a very winnable fight. But, unless Stevenson suddenly develops a career death wish, there's no way this fight happens. With safer options out there and still some guaranteed money to be had, Stevenson is not likely to give a Ward fight even a moment's consideration.

Joe Smith Jr.: Smith, the blue collar battler with back-to-back KO wins over Andrzej Fonfara and Bernard Hopkins, is being pretty poorly handled by his management team. With the right push, Smith could be in for some really big paydays, rather than a high-risk, low-reward undercard feature against Sullivan Barrera. Smith couldn't land a bout with Adonis Stevenson earlier this year, so the next best choice would've been the winner of Ward-Kovalev. If he gets by Barrera in July, Smith is the smartest available choice for Ward. The current IBF/WBA/WBO champ should be able to handle the hard-punching light heavyweight spoiler fairly well in a relatively easy to promote bout.

Nathan Cleverly: The Welshman recently regained a "world" title by capturing a lesser version of the WBA 175 lb. belt against Juergen Braehmer last October. A bout with Ward would be a very winnable one for the Oakland native, but also one that could tap into the lucrative UK market. Would Ward be willing to leave the U.S. for a stadium show in Cleverly's back yard? There's certainly plenty of money in it if the answer is "yes."

Eleider Alvarez: The Colombian boxer is in line to face Adonis Stevenson as a WBC mandatory challenger, but one can never tell how dealings with the slippery Stevenson may turn out and it would be a good idea to keep his eye open to other opportunities. Back-to-back wins over Lucian Bute and Jean Pascal give Alvarez plenty of ring "street cred," but a fan-unfriendly, laid back mindset could make for an ugly, painfully dreary bout if paired with Ward.

Artur Beterbiev: There are plenty of people who think that the undefeated, 32-year-old Russian is the future of the light heavyweight division. But Beterbiev, for the time being, seems fine with the pace he's on right now, facing relative soft touch Enrico Koelling this July in his third bout back from injury. Beterbiev and his people seem in no big hurry to jump into the deep end of the 175 lb. class at the moment, but a Ward clash would, indeed, make for an interesting bout.

Badou Jack: The now-former WBC super middleweight champ, coming off a draw with James DeGale in January, announced that he is testing the waters at light heavyweight. And what bigger challenge at 175 is there than Andre Ward? It's going to be hard to put together a Ward-Jack bout in the immediate future, but if did happen, it would be a very interesting encounter and a smart opponent choice by Ward.

Tony Bellew: Maybe Ward's best option is not at 175 at all. Bellew is still, technically, cruiserweight champion emeritus of the WBC and that could surely become a defendable title if the money is right. The brash Brit, who just stopped countryman David Haye in a heavyweight encounter last March, always makes for plenty of headlines with his gift of gab and talent for bluster. Like the Cleverly bout, this one would also tap into the lucrative UK market, but even more so as Bellew and his mouth are a promoter's dream. Winning another divisional title could tempt Ward into making a temporary leap to cruiserweight if the opportunity presented itself.