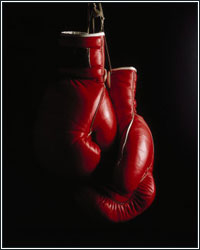 This is going to be a column unlike any other you have seen from me on FightHype.

See, I haven't been following boxing at all over the last week or so—I've been dealing with the very real danger of Hurricane Irma and the major struggle of trying to evacuate a state where there is, literally, only one route to freedom. Plus, I was struggling through this evacuation with four kids (ages 18 months, six years, seven years, and ten years), my sister, and an abandoned pit bull we picked along the way.

A couple of weeks ago, I temporarily moved from my Central Mexico cement bunker out to Cape Coral, Florida to help my sister out with some personal issues and ended up getting caught up in this hurricane mess.

On Wednesday, I decided to get us out of state so we can make our way to safety without dealing with all of the desperation that usually accompanies massive evacuations.

But the desperation had already set in days before Irma had come close to Florida.

With traffic moving at a snail's pace at various points on I-75 and gas increasing sparse as we moved along, anger and frustration were starting to boil over. We had to push to get a place in gas lines and pull our way through traffic.

And in this mess, I had to keep a car full of kids and a scared dog somewhat calm. So, I did what comes naturally—I talked boxing.

I told the full story of Muhammad Ali—from the Olympics to Vietnam to his recent death. I hooked everyone with the Ali-Liston dynamic, though, and made them Ali fans forever with the Rumble in the Jungle tale. My 10-year-old nephew was especially enthralled as I had begun training him seriously when I first got into Cape Coral.

So, twenty hours of Ali, with some detours to talk about Canelo Alvarez vs. Gennady Golovkin when I struck up a conversation with a fight fan at a besieged gas station near the Georgia border (I had to explain to my family what a "Canelo" was and what a "Triple G" was and why this fight meant something). We had plenty of time to go into full detail about all things boxing that came to mind. This distraction probably helped me more than the kids, to be honest.

Anyway, we got to northern Georgia and we are currently hunkered down with as many supplies we could buy and/or take along the way. Just last night, we found a permanent home for our precious "Apollo," the abandoned pit bull who accompanied us on our journey and was such a remarkably good boy and defender along the way. Honestly, I hated to give him up because he was such a sweetheart. Actually, it broke my heart. But, with the prospect of our home base being destroyed forever and a future full of car travel and hotel living, Apollo had to find a home. A shelter was never an option. If we hadn't found him a home, we would've found a way to make it work. Thankfully, the good boy has a good forever home.

Now, we face the unknown and pray for the safety of those we left behind.

Just this morning, we finally got around to unpacking some of our stuff. When I got to my nephew's backpack, I noticed a lump in the front pocket. He had ended up packing his hand wraps.

"Hey, you packed your wraps, buddy?" I asked.

"Yeah."

"Why?"

"We're fighters," he deadpanned.

Yeah. Yeah, I guess we are.