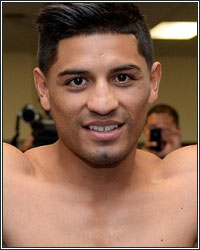 "I already said I've been doing really, really good in spar sessions. I really look forward to just making a statement that we are here to stay...At the end of the day I just want to perform, look great and get ready for not just Leo but any fight that's going to happen," stated featherweight champion Abner Mares, who recently spoke during a conference call to promote his upcoming clash with Andres Gutierrez. Check it out!

Richard Schaefer: It is always a pleasure -- a special pleasure, frankly an honour - form me to introduce one of my closest friends in this sport. An amazing champion inside the ring and an amazing father, husband and human being outside of the ring. A fighter I have known since actually before he went to the Olympics in 2004 where he represented the Mexican Olympian team.

He obviously came and conquered the professional world, facing some of the best 118, 122 and 126-pound champions over the years. He is born in Guadalajara as well and trains in California with famed trainer Robert Garcia who really, I think that Robert Garcia and Abner Mares make the perfect team. I think Abner Mares most recently dropped Jesus Cuellar in a hard fought victory last December for the WBA Featherweight title.

We saw the game plan Robert and Abner put together and how Abner executed against this fantastic game plan. I think they make an unbeatable team. Abner Mares is here to stay and has great fights ahead of him. But, first comes first, he knows that the Gutierrez is a tough customer and has only one loss, is a good puncher as well. It's going to be fireworks. And it's a pleasure now for me to introduce to you, Abner Mares.

Abner Mares: Richard, everybody on the line, thank you so much for having me on. I'm really honoured and happy to be fighting on this card. I'm fighting once again in, you can say my hometown, Los Angeles.

I always showcase great fights here at StubHub Center in Carson, California. I'm looking forward to showcasing once again alongside Robert Garcia, the new Abner. I know every fighter always says that, but I think I've proven it. I approved it against Cuellar in my last fight in December and I will once again against Andres Gutierrez come October 14.

Richard, a close friend of mine, thank you so much and I'm excited to have my second fight promoted by Ringstar Sports. My first fight was with Cuellar and now second fight, so I'm looking forward to that.

Everybody in my camp from Robert Garcia all the way through, thank you everybody so much. I've been waiting for this.

Q: Is that a good thing to have more time to train with Robert to prepare for trying to get revenge on one of your losses?

AM: You know what, that's the way I look at it. At first, I'm not going to lie, and most people know I felt upset. I felt a little irritated that I wasn't getting that fight.

Because at first it was solid, but at the same time, things happen for a reason, like Robert said. But, it gives us that much time to get ready even more for the Leo Santa Cruz fight. But, again we're not looking past Gutierrez, he's a great fighter, he's a hungry kid, I'm not that old and people make me sound old, but I'm not.

But, I remember when I was that age, 26, and I got my opportunity for a world title. So, I can imagine how happy he is and really looking forward to this fight. But, again I'm no push over, I'm in my prime, I'm in my movement, I'm strong, I feel great.

I already said I've been doing really, really good in spar sessions. I really look forward to just making a statement that we are here to stay.

Q: You're the one with the tougher fight, it seems between you and Leo. Can you give me your thoughts about being put in that position when you're supposed to be getting ready to fight the rematch?

AM: You can put me in the first fight, second fight, last fight. It doesn't matter, there's no such thing as, I mean obviously there is, a main event, but people know which one is the best fight out there. So, I think people are going to go watch both of us, obviously, see how we look. But I do feel like I got the tougher opponent, but you know we are planning to make it seem like it's a showcase but it's a good fight. But I'm not looking at his opponent, I'm focused on mine, he's focused on his opponent. At the end of the day I just want to perform, look great and get ready for not just Leo but any fight that's going to happen.

Q: Were you going to fight on this card even if there was no assurance that a Santa Cruz rematch was coming, or was it important to know that the next fight would in fact be a rematch?

AM: Mothing's for sure in boxing, to be honest. I'm just looking forward to getting in the ring. I got Gutierrez now. That's the guy I'm fighting, that's the guy I'm focused on. So, I've been saying, if it's not Leo the next fight, even though they saying it is, it might be 90 percent, I want Frampton too.

And if not Frampton, I want Oscar Valdez, if it's not Oscar Valdez, any world champion out there. So, we're not just looking at Leo now because we've been through that. So, that was a good question you're asking, so my answer is I just want any champion, but obviously there's a key and the fighter to fight will be Leo after Gutierrez.

Q: They said you're not going to sit around and wait for anyone. But this is only your second fight in almost two years. How frustrating has that been for you?

AM: It is, and it isn't. I think timing is the best thing and being realistic. To be 31 and to be learning so much right now with Robert Garcia, it's just amazing.

Not too many people could say that, at this age they're still learning and doing things that you never thought I could have done. it's just excitement to showcase them now on a final fight.

So, going in again with Gutierrez, we plan on doing like we did with Cuellar and move forward. So like I said, it is, and it isn't. Here's how I look at it, obviously this is my Christmas list.

If I get Frampton over Leo next on the list, any order, Leo, Frampton, Gary Russell Jr., Oscar Valdez and if I could make it jump to 130 and if you're still there Gervonta Davis. I'll fight them. That's four or five fights that could totally be my career right there.

So, I'm putting a number on my career because you got to think of the future, so that's the way I see it.

Q: Can you tell me what is the most difficult part of facing somebody like Gutierrez who has nothing to lose and everything to win?

AM: I've been there, I know how he feels, so I work with that. I don't feel like I'm no pushover, so it's just excitement to be fighting someone good and at the end of the day I'm going to go in history. Knowing I'm someone that's fought nothing but great fighters. So, I'm really proud to be fighting Gutierrez.

I just want to thank everybody. I want to thank my team. I want to thank you guys, the media, plus FOX and FOX Deportes. Shout out to everybody that's making this possible. I'm looking forward to October 14, and let the best man win.

# # #

Fans can live stream the fights on FOX Sports GO, available in English or Spanish through the FOX or FOX Deportes feeds. The fights are available on desktop at FOXSportsGO.com and through the app store, or connected devices including Apple TV, Android TV, Fire TV, Xbox One and Roku. In addition, all programs are also available on FOX Sports on SiriusXM channel 83 on satellite radios and on the SiriusXM app.

For more information visit www.premierboxingchampions.com, www.ringstar.com,www.tgbpromotions.com, http://www.foxsports.com/presspass/homepage and www.foxdeportes.com. Follow on Twitter @PremierBoxing, @Ringstar, @TGBPromotions, @FOXSports, @FOXDeportes and @Swanson_Comm and become a fan on Facebook at www.Facebook.com/PremierBoxingChampions, www.facebook.com/RingstarSports and www.facebook.com/foxdeportes. Highlights available at www.youtube.com/premierboxingchampions. PBC on FOX & FOX Deportes is sponsored by Corona Extra, La Cerveza Mas Fina.