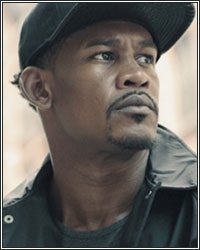 Daniel Jacobs was Daniel Jacobs on Saturday in his debut fight for Eddie Hearn's new Matchroom Boxing USA company on HBO. Opponent Luis Arias was also Luis Arias. And this means that, as most predicted, Jacobs was just too good for an Arias who was clearly a full level below him in both ability and experience.

Jacobs is not masterful by any sense of the word, but he seems to be a work in progress, still, and, most of all, he seems to be brimming with confidence post-Golovkin bout.

The biggest takeaway from the card at the Nassau Coliseum, however, was the difference we saw in how an Eddie Hearn card was promoted during fight week as compared to what we usually see from American promoters for similarly-sized cards.

As I wrote elsewhere:

"The back and forth between his heavyweight star Anthony Joshua and American heavyweight top dog Deontay Wilder has spilled over into discussions of the Jacobs card on Saturday with Hearn stoking the fire in the media. He's also using undercard player Jarrell 'Big Baby' Miller, who is not a Matchroom Boxing USA fighter, as a focal point for more chatter, linking him as an opponent to both Joshua and fellow Matchroom fighter Dillian Whyte.

And, between heavyweight banter, Hearn has been everywhere, titillating the media with quotable quotes that are too good to NOT generate headlines….

Maybe none of this helps sell seats at the Nassau Coliseum for Jacobs' showcase main event, but maybe a blockbuster is not the ultimate goal of this first Matchroom USA outing.

Hearn has created a buzz and maybe that buzz is the primary goal for Saturday. Realistically, Jacobs is not the type of fighter, at least not right now, who is going to create a buzz on his own, not without a superb, dynamic opponent. Many, many more people are talking about the HBO-aired show now than would normally be the case. TV ratings should be up by some degree, a few more asses will be in seats, but the real difference made is in the fact that people are talking boxing and the talk is focused through this card.

Joshua talk, Wilder talk, heavyweight talk is channeled through the Nassau Coliseum card via Hearn and the Miller-Mariusz Wach undercard feature. Golovkin talk, Canelo talk, Jacobs talk, and middleweight talk in general is channeled through the main event of this same Nassau Coliseum card. Hearn has all energies feeding this central event—and that's the way things should be."

Stack that against the usual promotional strategies of major American promoters these days, which seem more deeply invested in producing negative energies and tend to cast an "I'm being hustled" feel over most events.

I'm glad Hearn is here.

-- Over at the competing card on ESPN, Jose Ramirez put in the performance of the evening against a solid Mike Reed, who was absolutely overwhelmed in the second round of their contest.

Ramirez appears to be the real deal and could very soon be considered the class of a post-Terence Crawford junior welterweight division. Throw in the fact that he has a firm regional following and a fan-friendly style….and, man, the up side for him is huge.

Before we get too ahead of ourselves, though, we have to keep in mind that Ramirez's level of opposition has been very limited leading up to the Reed fight and that Reed, himself, was hardly a battle-tested veteran. There are a bunch of questions that remain to be answered about Ramirez, but he sure does pass the eye test when it comes to potential stardom.

-- I continue to be only mildly impressed with Jarrell "Big Baby" Miller and mostly because the guy can talk. In the ring, he's good, but there's nothing there that would suggest even the slightest hint of main stage ability. Against Mariusz Wach, on the Jacobs-Arias undercard, Miller was facing a one-handed human punching bag and still couldn't excel. Actually, the fact that he took as many shots as he did and couldn't close the show against a clearly limited fighter reveals a great deal about how low Miller's ceiling is. This is not to say that he can't make waves in the heavyweight division, just that he's probably going to make more money with his mouth than with his boxing ability.

-- In the Cletus Seldin bout yesterday at Nassau Coliseum, the HBO announce crew came closest than I ever recall to admitting that being white was actually something the network considered a selling point. They didn't flat-out admit it, but the implication was there via Seldin's own pre-fight statements, repeated by the crew. Well, duh…we all kind of knew that already. At any rate, the love the crew had for "The Hebrew Hammer" was way overboard. They were downright drowning in man-lust. Is there any question that if Seldin had been a black guy from Watts or a Mexican kid from Chihuahua...and not someone directly relatable to Lampley and Kellerman...that the love would've been significantly less "moist."

-- None of the above is Seldin's fault. The guy seems like a compelling figure and an entertaining fighter, but the truth in how good he actually is will be revealed in fights to come. Whatever the case, he certainly brings a bit of fun to a junior welter class that is starting to thin out.

Got a question (or hate mail) for Magno's Bulging Mail Sack? The best of the best gets included in the weekly mailbag segment right here at FightHype. Send your stuff here: paulmagno@theboxingtribune.com.