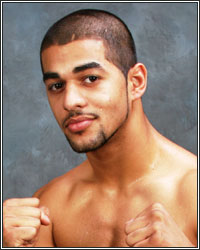 A victory lap was planned for Madison Square Garden Saturday night and most fans were fine with it. Puerto Rico's four-division world champ and future Hall of Famer Miguel Cotto was having his farewell bout after 17 years as one of the most honest, earnest figures in the business.

But a funny thing happened about a sixth of the way through that victory lap…

Nobody but nobody gave Sadam Ali much of a chance to beat Cotto. And that's just the truth. The best that could've been said about Ali and his chances was that he could complicate matters a bit because of his speed.

Cotto is COTTO and, speed or not, youth or not, Cotto would find a way to beat a kid who got stopped by light-hitting Jessie Vargas and whose best career conquests would be considered mid-level sparring partners for the Boricua battler. And, well, Cotto is COTTO.

But Ali proved to be a tough physical and stylistic match-up for Cotto and his status as a "lesser" fighter meant little when Cotto couldn't get the fight back on track or simply will things his way.

There are a lot of excuses that could be made for Cotto and reasons why he lost on Saturday.

We saw a young 29-year-old in there against a battle-weary 37-year-old. Cotto DID suffer a bicep injury in the seventh round. And it's honestly hard to get up for a bout where you're considered such a heavy favorite -- especially when you've been through so many wars and have done so much as a professional.

All of that is true, but none of it gives Sadam Ali the proper amount of credit.

Ali could've been swallowed whole by the event, satisfied with just a good performance against a retiring legend. A noble defeat on the HBO main stage against Cotto would've been a career victory for the "World Kid."

But, at some point, Ali decided that just a good showing wasn't enough.

And, at some point, Cotto realized that his best wasn't good enough.

The truth is that Cotto was already retired by the time he entered the ring on Saturday. Hell, he had probably been retired since his last "real" fight against Canelo Alvarez in 2015. He didn't need a whole lot to beat a plodding and predictable Yoshihiro Kamegai in August -- a first "free" pass he had earned in this last year victory tour. Ali was different, though. It's hard to navigate around speed and athleticism if you're just on cruise control.

Those playing this last fight off as a no-hope mismatch -- myself included -- were expecting at least some fire from Cotto and from Ali they were expecting him to "know his role." Neither happened.

Cotto wasn't too torn up about the loss, maybe because, in his mind, he's already "over" boxing. And if that's the case, this was, indeed, the perfect time to retire.

Quick (S)hits:

-- New WBO junior middleweight champ Sadam Ali has now earned a place in the talented and top-heavy 154 lb. division. I wouldn't expect Golden Boy to match him up against the Al Haymon/PBC trio of Erislandy Lara, Jermell Charlo, and Jarrett Hurd (or any Haymon/PBC fighter, really) so, that doesn't leave a whole lot for Ali to do other than tool around facing the very, very weak top 10 of the WBO. And, even then, Ali is no guarantee to beat anyone truly decent at 154.

-- Could we be getting an Ali-Antonio Margarito title fight next? Margarito DID receive a ranking from the WBO for his recent gift of a win against Carson Jones and he is probably the safest "big" name for Golden Boy to secure for Ali at this point. It's a pretty cynical pairing, but it could sell and it would probably give Ali another signature win to beef up his resume.

-- Lomachenko-Rigondeaux is this Saturday and it can't come soon enough for me -- even though I get the sick feeling that Rigo has been lured into a bad spot. Fighting two divisions above his best weight, at his age, and on a Bob Arum card? Rigo would have to be Superman to come out winning…but he just may BE Superman, so that's why I still find the fight intriguing.

Got a question (or hate mail) for Magno's Bulging Mail Sack? The best of the best gets included in the weekly mailbag segment right here at FightHype. Send your stuff here: paulmagno@theboxingtribune.com.