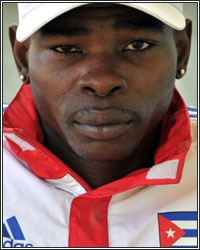 On Saturday, December 9, the boxing world will be treated with a spectacular match: two-time Olympic gold medalists Guillermo "El Chacal" Rigondeaux (17-0, 11 KOs) and Vasyl "Hi-Tech" Lomachenko (9-1, 7 KOs) will square off for Lomachenko's WBO super featherweight world title. The WBA super bantamweight world champion "Rigo" took a few minutes out of his busy schedule to discuss a few specifics about what may possibly be the most important fight of his impressive career.

Rigondeaux is moving up two weight divisions from super bantamweight to face Lomachenko. "El Chacal," no stranger to adversity, has had to deal not only with the intensity typical for a training camp, but also with natural disasters. Over the past several months, tropical storms have devastated the Caribbean, including Miami, where Rigondeaux lives and trains. It's been a difficult and trying time for Guillermo and his team, and he's using it as extra motivation in the gym. "First off, I'd like to send my thoughts and prayers to everyone in South Florida, Houston, Puerto Rico and throughout the Caribbean that was affected by the recent string of hurricanes," he said. "This has really been a catastrophic state of affairs. Yes, Hurricane Irma did impact my gym and affect my training--we were without power for a few days--but it simply forced me to sweat a little more. At the end of the day, I'm just thankful to be in this position and preparing for an incredible fight."

One of the intriguing aspects of this bout is the fact that Rigo was once signed with Lomachenko's promoter, Top Rank, and the split was not amicable. The Cuban's victory over top pound-for-pound fighter Nonito Donaire (also signed to Top Rank) in 2013 was an impressive and career-defining win. But rather than being built up as the next star in boxing, Rigondeaux fought infrequently and Bob Arum, CEO of Top Rank, was quoted in the media as saying, "Every time I mention him, [HBO executives] throw up." After his contract with Top Rank ended, Rigondeaux signed with Jay Z's Roc Nation Sports in 2015.

But Rigondeaux has a healthy attitude about his history with the promoter. "Top Rank and Bob Arum have no influence on my preparation or sentiments about this fight. Vasyl Lomachenko is my only opponent in the ring. I'm just grateful that Roc Nation was able to secure the fight without my involvement. At this point, I'm 100 percent focused on defeating Lomachenko and have absolutely no time for outside distractions beyond him."

Vasyl Lomachenko vs. Guillermo Rigondeaux will be broadcast live on ESPN and ESPN Deportes on Saturday, December 9. The telecast will begin at 9pm ET/6pm PT. The televised undercard bouts will feature two-time Irish Olympian Michael Conlan vs. Luis Fernando Molina; Christopher Diaz vs. Casey Ramos; and U.S. Olympic silver medalist Shakur Stevenson vs. Oscar Mendoza.
[ Follow Caryn A. Tate on Twitter @carynatate ]