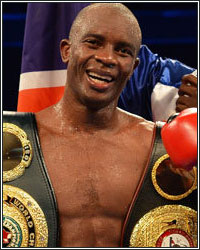 Undefeated 140-pound contender Regis Prograis and former unified world champion Julius Indongo made weight on Thursday ahead of their 12-round main event of SHOWTIME BOXING: SPECIAL EDITION for the vacant Interim WBC Super Lightweight World Championship on Friday, March 9, on SHOWTIME at 10 p.m. ET/PT from Deadwood Mountain Grand in Deadwood, South Dakota.

Check out what some of the fighters had to say at the weigh-in.

JULIUS INDONGO:

"I know that Regis is a very strong fighter, but my team and I have a game plan that I am confident in and I think that we will get the win.

"I have had plenty of time to prepare for this fight with Regis. I was already training because I knew I had a fight in March. The late notice will not be a problem for me. I am ready to go.

"The loss to Crawford did not affect me. Losing is a part of boxing. I took my loss like a pro and I am emotionally past it. Tomorrow night I will have a fresh start and will show that I am a better fighter because of it.

"I'm not going to change too much from my last fight just because I lost. I am going to keep my own style and just fine-tune a few details that I have to work on in order to win the fight.

"I definitely want to give credit to Mark Breland and Deontay Wilder's trainer, Jay Deas. We trained with them for two and a half weeks. We went to Tuscaloosa and they really helped us out and I think I really improved because of it. They were extremely welcoming and we will definitely be returning to train with Wilder's team again.

"Regis is a tough fighter. The credit he has gotten, he deserves. He is tough, resilient and gritty and we expect all of those things tomorrow night. We expect a very tough, competitive fight, but I am very confident in my own abilities."

PETR PETROV

"My training has been good. The late notice should not affect me, I am always in the gym and always in good shape. I trained in Spain for six weeks before coming here, so I am 100% ready for this fight. It was an easy decision to take this fight.

"I am always staying in the gym and always ready for a fight. The 11 month layoff was not by design, I was always preparing for a fight that fell through for one reason or another

"I was not familiar with Baranchyk, but I have learned that he is an aggressive fighter that will come forward. My counter-punching and my angles will be very important in this fight. I am going to stand toe-to-toe with him.

"I know that he is the younger, bigger fighter and I am taking this fight on short notice, but none of that matters. The only thing that matters is what happens in the ring tomorrow night, and I am confident that I will win."

CRAIG LEWIS

"I'm an original Kronk Gym boxer, but now I train at Hand's On Boxing Gym in Detroit.

"I was a former college basketball player. I went to Macomb Community College and Wayne State University. I was all about defense. I would knock guys down all the time. I'd knock down guys who were 7-feet, 300 pounds. I figured if they couldn't get the ball, they couldn't score. I did the dirty work. I figured I might as well get paid for it, so I turned to boxing.

"Junior Fa's alright. I've got to work the jab, and I'll make adjustments once I'm in there. I switch up and fight southpaw. I don't have a time when I do it. When it comes, it just comes.

"I think come Saturday morning the SHOWTIME boxing fans will say, 'wow, that's the new up and coming heavyweight.' I'm definitely a prospect and have skills. I have good hand-eye coordination. It's not just about power with me. I have real skills, and playing basketball helped me with that."

TREY LIPPE MORRISON

"I've been training the whole time, every day. I'm super excited, it's been too long. The reason I've been off so long is because of my hand, but it's healed up now. This will be a big test to see how my hand feels.

"I'm always nervous to get into the ring. But I'm very excited because I feel like I've been learning a lot the past year, so I'm excited to put that to use. I feel like I have the tools and I know exactly what I need to do. I'm so excited to show off what I've learned and I'm ready to experience it myself. I know I'm still lacking certain skills and there's things I need to get better at, but I feel myself getting better."

# # #

Prograis (20-0, 17 KOs), of Houston by way of New Orleans, has scored knockouts in 13 of his last 14 fights and is a rising star in the wide-open 140-pound division. Indongo represents the toughest challenge of Prograis' career with his lone loss coming to one of the top fighters in boxing, Terence Crawford.

In the co-feature of the SHOWTIME BOXING: SPECIAL EDITION tripleheader, fellow undefeated 140-pound contender Ivan Baranchyk (16-0, 10 KOs) will meet former world title challenger Petr Petrov (38-5-2, 18 KOs) of Ryazan, Russia in an eliminator for the IBF's No. 2 position at 140 pounds. The 25-year-old Baranchyk is currently ranked No. 4 in the IBF at 140 pounds and owns seven wins over previously undefeated fighters.

Opening the SHOWTIME BOXING: SPECIAL EDITION telecast, undefeated heavyweight Junior Fa (13-0, 8 KOs), of Papakura, New Zealand, squares off against Craig Lewis, (14-1-1, 8 KOs), of Detroit, Mich., in an eight-round bout. The 28-year-old Fa made an astounding statement in his US network debut, stopping Fred Latham in the first round in Cleveland on ShoBox: The New Generation.

The event is presented by DiBella Entertainment, in association with Fight Promotions Inc., Holden Productions and Banner Promotions. Tickets, priced at $200, $80 and $60, are on sale now and can be purchased on Ticketmaster.com or by calling (877) 907-4726.

In a non-televised undercard bout, undefeated heavyweight prospect Trey Lippe Morrison will face Oswaldo Ortega in his first fight in 15 months after suffering a hand injury. Lippe Morrison is the son of former heavyweight world champion Tommy Morrison.

The doors open and first bout begins at 5:30 p.m. More information on Deadwood Mountain Grand can be found on their website at www.DeadwoodMountainGrand.com.

Barry Tompkins will call the ShoBox action from ringside with Steve Farhood and former world champion Raul Marquez serving as expert analyst. The executive producer is Gordon Hall with Richard Gaughan producing and Rick Phillips directing.

For more information visit www.sho.com/sports follow on Twitter @ShowtimeBoxing, @SHOSports, #ShoBox, or become a fan on Facebook at www.Facebook.com/SHOSports.