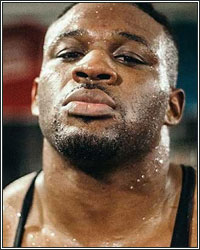 Former Middleweight World Champion and BROOKLYN BOXING Ambassador, DANIEL 'The Miracle Man' JACOBSand Brooklyn's Undefeated Heavyweight Contender JARRELL 'Big Baby' MILLERheld spirited workouts in Brooklyn on Thursday for a large crowd of local media leading up to their highly anticipated fights at 'Straight Outta Brooklyn', the massive international boxing event set for Saturday, April 28, 2018 at Barclays Center and televised live on HBO World Championship Boxing®beginning at 10:00 p.m. ET/PT.

Check out what Jarrell Miller had to say!

JARRELL MILLER

"I'm coming at Duhaupus like a tornado. I'm not going to compare my performance against Duhaupas against anything Deontay Wilder did in their fight, I know what I'm going to do and that's to look spectacular."

"It's lights out time on April 28, plain and simple."

"I'm ranked #3 by the WBA, WBO and IBF so I'm not on a particular track other than to fight for a world title as soon as possible, whether that's Anthony Joshua or someone else.

"Eddie Hearn has made it known that the fight with Anthony Joshua is a possibility and I'd love to have that fight next after I beat Duhaupas."

"I'm not impressed by anything Anthony Joshua or Deontay Wilder have done, they haven't faced me yet and I'm going to keep knocking guys out."

"I'm glad Tyson Fury is back but if he fights me I'm knocking him out."

"Every opponent is tough, he's probably one of the toughest in my career but I'm going to knock him out on April 28."

"Fighting at Barclays Center is great, I can't wait to get back there and put on a show for the hometown fans and those watching on HBO."

# # #

In the main event on April 28, Jacobs, (33-2-0, 29 KO's), will make his long-awaited return to Barclays Center in a 12-round clash against undefeated Polish contender MACIEJ SULECKI, (26-0-0, 10 KO's) in a WBA Middleweight World Title Final Eliminator.

Co-featured in a 12-round heavyweight battle, Miller,(20-0-1 ,18 KO's), faces former world title challenger JOHANN 'The Reptile' DUHAUPAS, (37-4-0, 24 KO's) of Abbeville, France. The fight will be contested as an WBA Heavyweight World Title Eliminator.

Presented by Matchroom Boxing USA, advance tickets for 'Straight Outta Brooklyn'starting at $42 may be purchased by visiting Ticketmaster.com, BarclaysCenter.com, or calling 800-745-3000. Tickets for the event can also be purchased at the American Express Box Office at Barclays Center. For information on group sales, call 844.255.9647.