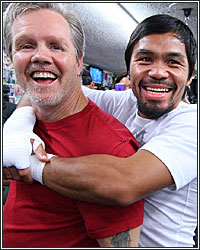 According to multiple reports, multi-division former world champion Manny Pacquiao has parted ways with long-time Hall of Fame trainer Freddie Roach. Although Pacquiao has not made an official comment, a press release related to his upcoming July 14 fight with Lucas Matthysse revealed both a new training as well as promotional team.

"Pacquiao will be joined by his new promotions team along with trainers Restituto 'Buboy' Fernandez and Raides 'Nonoy' Neri," the release read. The news echoed statements previously made by Pacquiao's adviser, Michael Koncz, who hinted at the change weeks ago. "Manny has told me Buboy will be handling the training on this fight. What's important to Manny is that he has one voice to listen to in the corner that he trusts, and I guess that's Buboy for this fight," Koncz explained. "There was some concerns Manny had in the last fight and some statements Freddie made to the media that Manny wasn't very pleased about."

Shotly after today's press release came out, Freddie Roach issued his own statement, confirming the end of their 16-year run together. "Manny and I had a great run for [16] years -- longer than most marriages and certainly a rarity for boxing," Roach's statement read. "I wouldn't trade any of it. Inside the boxing ring and the political ring, I wish Manny nothing but the best. I would be lying if I didn't say I wasn't hurt that he didn't contact me personally about his decision, but the great times we enjoyed together far outweigh that."