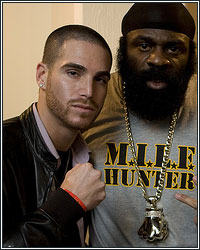 "There is no opportunity for CBS now and being seen by millions of eyeballs. KJ Noons can look directly at Mark Dion and ask him why or he can just come out and say he doesn't want to fight him. I still believe he would fight him, but it's just a terrible mismanagement situation," stated EliteXC Vice President Jared Shaw as he discussed the situation regarding KJ Noons. Check out what else he had to say as he talks about the Noons-Diaz fight falling through, when we can expect an announcement on Kimbo Slice's opponent, Nick Diaz's return in November on Showtime and much more.

PC: It's been a crazy week for you Jared. What was the final straw that made the Noons-Diaz fight not happen?

JS: The final straw was they took the shortest straw in the pile because they lost out. There is no opportunity for CBS now and being seen by millions of eyeballs. KJ Noons can look directly at Mark Dion and ask him why or he can just come out and say he doesn't want to fight him. I still believe he would fight him, but it's just a terrible mismanagement situation.

PC: You've been around the fight game for a long time. Do you think fans are misguided when they say Noons is scared of Diaz because from the outside looking in, it may look like he's avoiding him?

JS: Yeah, you know, look, I'd like to stick up for KJ Noons. I believe in my mind that he is not scared, but unfortunately, I cannot guarantee that. Unfortunately, I haven't had conversations with KJ and KJ hasn't spoken to the press yet. Maybe he will come forward with his own statement, but at this time, I'm led to believe from the conversations with Mark Dion that this is a management situation and not a fighter that's scared. Look, KJ Noons is a world champion. He's taken on Yves Edwards, Nick Diaz, Edson Berto and Charles "Krazy Horse" Bennett so he hasn't rejected a fight up until this situation. We've been trying to make this Nick Diaz fight happen since about March.

PC: So this isn't a short notice type of fight or the training time wasn't appropriate then?

JS: No, this isn't all of a sudden I blew a gasket, went out to the public and said, "Look, can't find it!" We've been trying to make this fight for 6 months.

PC: How frustrating is it for you to have a fighter that, in your mind, you think wants to fight, but, in your opinion, his manager is prohibiting the fight from happening?

JS: Oh, it's very frustrating. It's not just whether he wants to fight or not. I'm frustrated by the opportunity this kid is blowing. This is a once in a lifetime opportunity. This is only the 3rd show on CBS. There's millions of fighters that never had this opportunity and will never have this opportunity.

PC: What's next for both Diaz and Noons?

JS: Nick Diaz will be back in November on Showtime for an Elite show. His opponent will obviously be discussed and I really don't know what's next for KJ right now. Like I said, it's getting close to him just pulling up a chair and watching EliteXC and a bunch of other fighters become stars. You sit there and whether you are questioning your own people or yourself about why you're not becoming a star right now, especially when you're the one wearing the gold around your waist…let's be honest here, a belt means something. It means you're a champion and more importantly, it's a way for fans to identify the #1 fighter and if you're not around, having a belt doesn't mean anything because nobody can see it. He had the opportunity to be on a card that had Kimbo Slice and Gina Carano on. You've already seen what those 2 are capable of on May 31st. Throw yourself and Nick Diaz in the mix and you could only make it a bigger event.

PC: Are you anticipating a press conference from Noons' camp?

JS: Honestly, I don't care one way or the other. It's not on my mind. If they want to have a press conference, I find it humorous. Even if they had an allegation that was possibly true, which I find incredibly hard to believe, or they just have the rights and they want to go over them, nothing changes the fact to what this is really about. Yes or no, will you fight Nick Diaz? Do you want to defend your belt against a #1 contender? What ever your gripes are about boxing, money, who you do or you don't like with Pro Elite and EliteXC, let's focus on the situation here. You signed a contract. When you signed the contract, you knew what you were getting in your 3rd or 4th fight. You already knew and now it's time to fight again and not only is it time to fight again, you're given a golden opportunity. Look Percy, there is nothing that says I can't put KJ Noons on an undercard; off TV. He can be first fight of the night; champion or not. There is no rule to that so who is really threatening who here? Again, being a champion is a great thing, but if you are not around, having a belt doesn't mean anything because nobody knows who you are. Win or lose in a fight with Nick Diaz, I believe both of them come out stars. I don't think KJ is scared because, again, he's never backed out of a fight and he doesn't seem like the type of guy that would back out of a fight and he sure as hell went on HDNet and had plenty to say about Nick Diaz. I was reviewing the tape of the last fight last night just to enjoy it again because it was a great fight and at the end, KJ Noons is calling Nick Diaz the #1 fighter in the world. If he hasn't lost since then, he has to be the #1 contender in EliteXC.

PC: They think Eddie Alvarez is the #1 guy. What do you think?

JS: Yeah, pick on a guy that's unavailable.

PC: With the October 4th card moving forward, when can we expect an opponent finalized for Kimbo and what do you think of Kelly Kobald vs. Gina Carano?

JS: I would expect a Kimbo Slice opponent to be announced early this week. I would say Gina Carano-Kelly Kobald is a fantastic standup fight. Anybody that doesn't know Kelly Kobald needs to get on Youtube, Dailymotion or get on some of these underground sites or just talk to my boy Percy over here and he'll tell you all about the girl. She's had 2 minor setbacks to some of the best fighters in the world, Julie Kedzie, who gave it all to Gina as well, and Tara LaRosa, who is arguably one of the top 3 fighters in the world as far as the female ranks. Kelly got some serious standup game for Gina and Gina has all the time in the world to prepare for this fight. I'm expecting her to come in on weight and ready to be the superstar that she already is.

PC: Yeah, I interviewed Kelly and she doesn't sound like a fighter that's going to be a door mat for Gina.

JS: No! Kelly Kobald is there 100% to make a name for herself. The platform is there for her. There is no lobbying behind the fact that there are big plans for a Gina Carano-Cris Cyborg clash down the line, but she could easily throw a stake in those plans.

PC: I appreciate your time Jared. I know this is a busy time for you. Is there anything you want to say in closing?

JS: Yeah, absolutely Percy. I appreciate you and FightHype and you guys interest in EliteXC. Everybody can get ready to pull up chairs for a couple of weeks and watch some of the best fights on television; on Showtime and CBS. They start September 26th where we will have the first ever ShoXC world championship fight; the introduction of the bantamweight title featuring Wilson Reis against Bao Quach. Then, of course we have the fantastic event on October 4th on CBS. Then we'll be back on October 10th featuring Dave "Pee Wee" Herman on ShoXC live from Indiana and back again on Showtime with Elite on November 8th so MMA fans, stay tuned. There's going to be a lot more information coming from EliteXC and once again, FightHype is the place to be.
[ Follow Percy Crawford on Twitter @MrLouis1ana ]