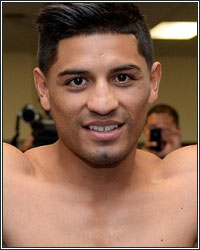 Abner Mares, the current WBA World Featherweight Champion in Boxing, has debuted his Instagram series #MaresMindset: Body, Mind & Soul on the social media platform. The series features Mares' training for his June 9 title defense against Leo Santa Cruz at Staples Center. The fight will be broadcast live in the U.S. on SHOWTIME and on Fox in Latin America.

"We wanted to show fans a snapshot of what I go through in training camp leading up to the fights," said Mares. "I get a lot of direct messages on Instagram asking about how I train and the process behind it. Luis and I came up with this series to give them some tips and ways that they can train alongside the team. Fitness is more than just a job for the team, it's part of our life and we hope that our program will help fans and anyone who watches it get inspired to be healthy in body, mind and soul."

Mares's Strength and Conditioning Coach Luis Garcia added, "We kicked this series off five weeks out from the fight so people can follow our training and hopefully get inspired to train alongside of us. We want our fans to experience the focus we put in to get to weigh-in day, get on the scale and then get in the ring. Abner's a champion and we hope that through this series our fans can become champions in their fitness camp as well."

Original episodes will post Monday, Wednesday and Fridays at 6 p.m. ET/3 p.m. PT with a recap posting on Sundays at 3 p.m. ET/Noon PT. The series will run until June 9. The series was produced by Oso Studios with Mares Enterprises.

Episode titles:

Week one (may 7): #MaresMindset Introduction

Week two (may 14): Focus: Micro vs macro - Strength, Endurance, Determination, Nutrition

Week three (may 21): Intentions: Words to live by

Week four (may 28): The fighting spirit

Week five (June 4): The champ is here.