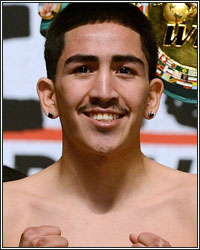 Somewhat lost in the buzz surrounding possible heavyweight title unification and the exciting mass of life existing at welterweight is the strong and compelling featherweight division.

A month ago, there were at least seven elite featherweights vying for top dog status at 126. Now, after a handful of quality 126 lb. battles over the last few weeks, that number is down to four. The goal, of course, is to go from four to one—and, despite boxing being boxing, in this division, that goal of a unified champ just may become a reality.

Sitting atop the division is Leo Santa Cruz, who beat Abner Mares this past Saturday at Staples Center in LA in a Fight of the Year-level rematch of a near-Fight of the Year 2015 scrap. Santa Cruz is a three-division world champ with a 6-1 record at featherweight and the WBA world title around his waist

Next is Carl Frampton, who is 1-1 against Santa Cruz and, most recently, scored a strong, decisive unanimous decision victory over Nonito Donaire.

Gary Russell Jr., who could easily be moved up to the no.1 or no. 2 slot in these informal rankings, is the most talented featherweight in the game with, arguably, the fastest hands in all of boxing. The current WBC champ, whose lone defeat came at the hands of Vasiliy Lomachenko back in 2014, most recently made waves by dishing out a comprehensive beating to the talented and skilled Joseph Diaz.

Firmly in the four slot is WBO titlist Oscar Valdez, who is recovering from a broken jaw suffered this past March in his brutal defense against Scott Quigg. Valdez has made four successful defenses of his title since winning the vacant strap back in July of 2016.

Right now, this is the top four of the welterweight class. With three of the four (Santa Cruz, Frampton, and Russell) fighting under the Premier Boxing Champions banner, it should be fairly easy to get at least a round-robin mini-tournament going. Valdez's promoter, Top Rank, has shown a willingness to deal with one-time archrival PBC when the opportunity is right, so it's not really a stretch to envision a scenario where Valdez joins the mix in an effort to establish a unified 126 lb. champion.

If, however, Valdez can't or won't be part of the unification process, then there are plenty of replacements for a fourth tournament slot.

In the UK, Josh Warrington just beat Lee Selby for the IBF title. Abner Mares accounted so well for himself on Saturday against Santa Cruz that a case could be made that he deserves that no.4 slot, above Valdez. Joseph Diaz, despite his loss to Gary Russel, is a well-schooled upper-tier young fighter with a solid future awaiting him. Meanwhile, former titlist Lee Selby can't be written out anymore than the tough and rugged Scott Quigg can.

But, ideally, fans would get the Santa Cruz-Frampton-Russell-Valdez grouping and the one unified champ would not be slowly stripped of his belts by the always money-hungry sanctioning bodies.

In most cases, the sport these days is actually helped by the presence of multiple world champions because they allow for high-stakes world class boxing to take place in four different parts of country and/or world throughout the year. But there's also a tremendous benefit to having one unified champ and when the opportunity presents itself to whittle the champs from four down to one, that opportunity should be taken.

Whatever the case, there are most definitely bright and entertaining days ahead for the featherweight class.

Who do see fighting his way to the title of undisputed unified 126 lb. champ?