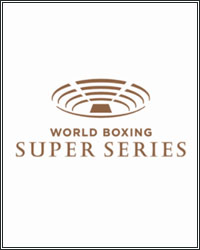 Season One stars Mairis Briedis and Yunier Dorticos are joined by top challengers in the quest for the Muhammad Ali Trophy in the upcoming 200 lb edition of the World Boxing Super Series.

The inaugural season of WBSS's Cruiserweight tournament was concluded last month in the most epic fashion when Ukrainian Aleksandr Usyk beat Russian Murat Gassiev before a capacity crowd of 24,000 at the Olimpiysky Arena in Moscow.

"We have an amazing line-up with eight worthy challengers that rival last season's sensational quality," said Kalle Sauerland.

"Cruiserweight is one of the most exciting divisions, just look at last season's unbelievable match-ups. So we are looking forward to a new season."

The eight cruiserweights competing for the Muhammad Ali Trophy, the single-elimination tournament from October 2018 to summer 2019 are matched as follows in the quarter-finals.

No 1 seed Mairis Briedis (24-1,18 KOs), Latvia vs. Noel Mikaelian (23-1, 10 KOs), Germany

No 2 seed Yunier 'The KO Doctor' Dorticos (22-1, 21 KOs), Cuba vs. Mateusz 'Master' Masternak (41-4, 28 KOs), Poland

No 3 seed Krzysztof 'Glowka' Glowacki (30-1, 19 KOs), Poland vs. Maksim 'The Kill' Vlasov (42-2, 25 KOs), Russia

No 4 seed Ruslan Fayfer (23-0, 16 KOs), Russia vs. Andrew 'The Beast' Tabiti (16-0, 13 KOs), United States

Mairis Briedis

Mairis Briedis, 33, from Riga, Latvia is back in the WBSS.

The national hero is the first Latvian ever to win a boxing world title, having held the WBC cruiserweight title from April 2017 to January 2018.

He is undoubtedly among the best cruiserweights in the world and one of the favourites to take home the grand prize.

In last season he came close: He won his quarter-final convincingly by unanimous decision against Mike Perez and continued to face top-seed Aleksandr Usyk. In a fight-of-the-year contender, Briedis was defeated via majority decision in a close and thrilling contest and gave what Usyk called; 'the toughest fight of my career.'

Noel Mikaelian

Formerly known as Noel Gevor, Mikaelian, 27, is a German of Armenian birth who lives in Hamburg, Germany.

Mikaelian is a former WBO Youth champion and current WBO International Cruiserweight champion and only a split decision, in an IBF eliminator against Krzysztof Wlodarczyk, prevented him from participating in last season's Ali Trophy Cruiserweight tournament.

Mikaelian is training under renowned Cuban coach Pedro Diaz and has been predicted a big future in the cruiserweight division; he is known for his boxing brain, speed, footwork and the ability to finish a fight with a single punch.

Yunier 'The KO Doctor' Dorticos

Yunier Dorticos, 32, originally from Havana, Cuba was one of the most exciting participants of the inaugural season of the World Boxing Super Series, a spectacular power puncher with an iron chin. The Miami based KO artist stunned his quarter-final opponent Dmitri Kudryashov, with a devastating third-round knockout victory, but in the semi-final, the former WBA World Champion was stopped in the twelfth-round round by Russian Murat Gassiev.

Mateusz 'Master' Masternak

Mateusz Masternak, 31, from Wroclaw, Poland is a former EBU (European) Cruiserweight champion. His dangerous right hand and accurate hooks are respected by everyone in the division. In 2014 he fought for the interim WBA World Cruiserweight Championship in 2014 but lost via split decision to Youri Kayembre Kalenga.

Krzysztof 'Glowka' Glowacki

Krzysztof Glowacki, 31, held the WBO World Cruiserweight title from 2015 to 2016. The exciting Polish southpaw from Walcz, Poland lost to Aleksandr Usyk in 2016 (at that time the only fighter to go the full distance with Usyk), losing the WBO belt, which he won in 2015 via knockout against Marco Huck. That fight was labeled a 2015 fight-of-the-year contender.

Maksim 'The Kill' Vlasov

Maksim Vlasov, 31, from Samana, Russia has won 12 straight fights since moving up in weight following a loss to Gilberto Ramirez in 2015 and he is currently holding the WBC Silver Title.

He has competed at middleweight, super middleweight, light heavyweight and is now a red hot addition to the cruiserweight division.

Ruslan Fayfer, Russia

Ruslan Fayfer, 27, from Dzhubga, Russia currently holds IBF's version of the International title and has paved his way to the top ranks with impressive stoppage power. The talented Russian has looked good so far in moving up the ranks but is facing the toughest challenge of his career after entering the 200 lb edition of the WBSS.

Andrew 'The Beast' Tabiti

Andrew Tabiti, 28, trains out of the Mayweather Boxing Club in Las Vegas and is a promising unbeaten contender known for his outstanding hand speed. His boxing inspirations are the likes of James Toney, Evander Holyfield, Roy Jones and Floyd Mayweather, but ´The Beast' has the chance to make a name for himself competing for the Muhammad Ali Trophy.