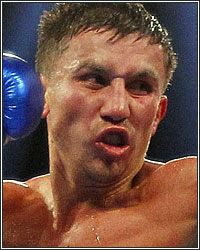 Gennady Golovkin's contract with HBO ends this Saturday with his high-profile pay-per-view rematch against Saul "Canelo" Alvarez at the T-Mobile Arena in Las Vegas. Win, lose, or draw, unless some last-minute deal is reached before fight night, this may be the last time "Triple G" fights on the network that, almost literally, put him on the boxing map.

The end of Golovkin's contract brings up some interesting issues for not only him and the premium cable network that has been his home for six years, but also for the entire sport.

The jaded, old school boxing person may see a red flag in this upcoming scenario for Golovkin. An older star, potentially moving on to another network, matched against a younger "house" fighter on that same network? That just screams "a screw job is coming." Boxing veterans will tell you that an outward-bound fighter will not be allowed to just walk away, reborn in victory, to sign with a rival company. The star will be allowed to leave, there's no real way to stop him, but the push will always be for him to leave as a tarnished loser rather than a glorious conqueror.

HBO doesn't seem very savvy these days and they may not even be thinking in these old school terms. They've also spent years building Golovkin into as big a star as they could. Not securing a new contract would be, at the very least, an odd decision and, at the very worst, an admission that they're just not very interested in boxing anymore. HBO executive vice president Peter Nelson is refusing to answer questions regarding Golovkin's contract.

"GGG is a spectacular prizefighter. All of our focus this week is on the showdown at T-Mobile Arena Saturday night and providing the two fighters with the biggest stage possible," Nelson told the LA Times' Lance Pugmire. "We don't comment on contracts."

Putting the screw job theory out of mind, Golovkin's impending free agency status is an intriguing development in a boxing business currently in a state of flux.

Golovkin, even at 36 years of age, is a prime acquisition for any boxing company looking to add some weight to their broadcast roster.

Right now, Eddie Hearn's DAZN streaming project is off the ground, loaded with cash, and eager to scoop up any and all marketable names in an effort to bring in subscribers. Top Rank, which just signed a 7-year deal with ESPN, is also looking for "names" to deliver to a seemingly boxing-serious sports network and content-hungry ESPN+ streaming service. Al Haymon's Premier Boxing Champions (PBC) would also surely be receptive to adding another big name to their roster to help fill dates for recently renewed contracts with Showtime and Fox.

Golovkin will be able to command a pretty penny on the open market. If the goal is to add on to a retirement nest egg after years spent taking marginal paydays for an HBO main eventer, then he would be wise to explore his options.

Just in terms of big fight possibilities, Hearn could have the WBO middleweight title in his stable's possession if Demetrius Andrade beats Billy Joe Saunders this coming October 20 in Boston and they already have former Golovkin foe Daniel Jacobs (who will be fighting former Golovkin top contender Sergiy Derevyanchenko on October 27 for the IBF belt Golovkin was forced to vacate). Top Rank has secondary WBA middleweight titlist Ryota Murata on its talent roster. PBC has WBC top contender Jermall Charlo. And, of course, HBO could deliver a third blockbuster with Canelo Alvarez if the upcoming second bout lends itself to a sequel.

"If Gennady wins [Saturday], he has a lot of options," Golovkin promoter Tom Loeffler said.

"Triple G" will just have to make it through this Saturday relatively unscathed to start grabbing for the big bucks.

That's easier said than done, of course. A world class fighter in Saul Alvarez will be standing on the other side of the ring, driven to defeat him and indirectly ruin his free market options. Also, conventional boxing wisdom is working against Golovkin as an aging star in the last fight of his contract, who may be looking to leave home while still on top.

Answers will be known soon enough.