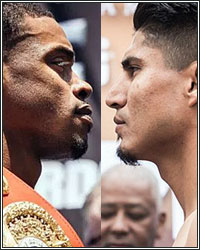 On this glorious Thursday here in my cement bunker in the hills of Central Mexico, I sit playing with my bulging, bulbous sack, looking to extract all the salty, gooey truth within for the enjoyment of smart boxing fans everywhere. So, sit back and watch it come. This week, we have questions/comments regarding PBC outsourcing, GGG's DAZN deal, and my pick for Saturday's Spence-Garcia bout.

PBC Scared of Top Rank?

What's good P Mag? Hope all is well. Bob Arum has been doing a lot chattering lately and his latest claim is that Al Haymon refuses to work with other promoters because he is scared to match his fighters against his. I laughed because from 2009 up until Pac fought Mayweather, Arum in-housed fights to no end. Funny how Bradley had to leave Gary Shaw while Mosley and Marquez had to leave Golden Boy to fight Pac. He didn't really do it then so am I expected for him to do it now? He may cross promote if it's a lower tier fighter or if there is a mandatory, such as the Loma-Crolla fight. Another example is Crawford/Khan. Hearn has nothing to lose, (but everything to gain if Khan wins) by tossing Khan to Crawford. Khan is at the middle of the totem pole and his career is just about over. But Arum has shown little interest in cross-promoting unless he has full control of the fight. But overall, managers/advisers have been doing this for a while. Any heavyweight wants to fight Joshua it's going to be on DAZN. Anybody wants to fight Fury, it's going to be on ESPN. Wilder (for right now) Showtime or Fox. I have to admit, that boxing has gotten its share of good fights, but we have missed a couple as well due to politics. The apps have carried on what has been going on in boxing for years; create walls and force customers to fork over cash for fights that may be mediocre or great. But Arum should be the last one talking about someone not cross promoting whose signature has been, "yesterday I'm lying, today I'm telling the truth".

-- Robert Elmore

Hey Robert.

That Arum-initiated narrative of Haymon not wanting to match his fighters outside-of-house is such a BS talking point. NOBODY is putting their "A-list" fighters out there to fight outsiders on other networks. I certainly don't see Arum farming out Lomachenko or Crawford or even Gilberto Ramirez to other broadcast outlets for the sake of making big fights the fans want to see. PBC, like all other companies, does send their lesser players for paydays outside the company control, but they aren't selfishly hoarding talent any more than Oscar is hoarding Canelo, Arum is hoarding Loma, and Hearn is hoarding Joshua.

If anything, Arum is the one playing a Monopoly game lately by taking the ESPN name and its money and luring fighters over to sign with Top Rank. He just tried to do to Deontay Wilder what he did to Bradley back in the Pacquiao days by insisting he sign a Top Rank contract in order to get access to a Tyson Fury rematch.

There's no new hustle in boxing, just variations of old hustles and Arum is the expert in that area.

Garcia vs. Spence: The Final Pick

Mags.

I know you already gave your prediction on Spence vs. Garcia, but I'm giving you one last chance to back out gracefully and change your pick. Garcia going to get destroyed. He can't hurt Spence and he's not a boxer who's going to put on a Floyd Mayweather show. I do give credit to Mikey for doing this, but it's a suicide mission for sure. I say TKO by the eighth or ninth and maybe sooner.

-- T. L Taylor

Hey T.L.

LOL. If anything, I've become even more certain of my pick over the last few days. I respect the hell out of Spence, what he's done, and what he CAN do, but EVERYONE can be outboxed with the right strategy and dedication to that strategy. And if there's anyone who can change his style and mindset for one big fight like this one, it's Garcia. No, it won't be easy and I certainly don't see Garcia knocking Spence out, but I can see him doing some hit and run, picking apart from angles and walking away with a decision. I wouldn't be surprised, however, if Spence clips him and takes him out at some point. I have no horses in this race, but I am looking forward to seeing how Garcia works Spence and how Spence responds to being worked. It should be interesting.

GGG to DAZN, WTF?

Magno. A six-fight deal to GGG for tens of millions of dollars? What the hell is DAZN thinking? They got that much cash to be throwing away on a fighter who's turning 37 in a couple weeks and who never was much of a draw in the first place? Crazy.

-- Damon

Hey Damon.

I get DAZN signing Golovkin as a salable opponent for Canelo, Jacobs, and Andrade, but, yeah, six fights seems a bit much and the money reportedly involved—at least $10 million per fight, but likely more—is insane for a company already bogging itself down with payroll costs (and actively pursuing more by going after Wilder).

The truth, as you mentioned, is that Golovkin was never a huge draw beyond the already-sold base. Forget the full arenas (with reduced-price seating throughout) and the media cheerleaders, GGG never moved the needle much on his own. After all those years of crazy HBO hype and media fawning, Golovkin could only become half the draw of similarly accomplished fighters from the previous generation—and he only got THAT far by piggybacking on Canelo Alvarez's star power.

I would assume this deal is not guaranteed, but if it is and GGG gets smoked two or three fights into the contract, this will look like a disastrously dumb decision.

Got a question (or hate mail) for Magno's Bulging Mail Sack? The best of the best gets included in the weekly mailbag segment right here at FightHype. Send your stuff here: paulmagno@theboxingtribune.com.