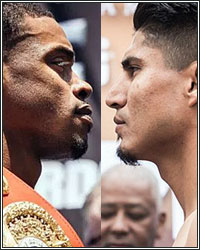 FightHype.com was on hand at AT&T Stadium in Arlington, Texas where undefeated welterweight champion Errol Spence Jr. dominated previously undefeated multi-division world champion Mikey Garcia, winning every round on his way to a unanimous decision victory.

Garcia showed heart, taking the fight to Spence at times and digging deep under tremendous pressure. Spence, however, proved to be on another level as he mixed up his style and continued to turn up the heat round after round after round. In the end, the judges scored the bout 120-108, 120-108, and 120-107, giving Spence the dominant win. Be sure to check back soon for our post-fight coverage.

ERROL SPENCE JR.

On fighting Manny Pacquiao next: "He's broken records here before, he's a legend in the sport and it'd be my honor to fight him next.

"The motivation fighting in front of my hometown crowd made me feel great. These people have supported me since day one and I wanted to put on a good performance for all of them.

"Throughout training camp, a lot of commentators thought he was too smart and I couldn't box as well as him. I showed I can box and I can move my head if i want to.

"The game is to be smart, its the sweet science. I had the size and reach advantage, so why not use it to take away the jab? It's a weapon for me and it takes away one of his weapons.

"I give Mikey Garcia all the credit for taking this fight. Mikey and I put on a great show in front of all these lovely fans. I respect him so much and I appreciate him for stepping up."

MANNY PACQUIAO

On fighting Errol Spence Jr. next: "Yes, why not? We'll give the fans a good fight. I'm so happy to be here in Dallas and I hope I will be back here soon."

MIKEY GARCIA

"I really appreciate the love and support of the fans tonight. It's a great night and all the credit to Errol, he's a great champion. He's the truth. He executed his game plan very well.

"He came out here with a good game plan and kept the distance at his favor. I couldn't get my rhythm going and he did what he had to do. I tried to make adjustments and he kept executing.

"I was able to hold my own. I felt good and I felt strong myself. I think he felt my power, but he definitely has power also.

"My brother wanted to maybe stop the fight in the later rounds. He didn't want to let me get hit more, but I told him I was fine and I tried to go out there and pull it off. I thought I could have landed one good shot to change everything, but I wasn't able to land it.

"We just went 12-rounds with a great welterweight champion. That's a feat no one has done recently. I'm proud of what I was able to do. I have to go back and think about it. I will probably go back to lighter divisions but we'll have to think about it."