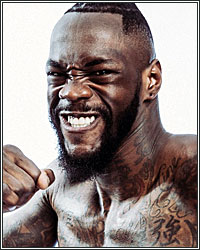 $100 million to us regular human beings is "push my grandma down the stairs if I have to" money.

So, don't expect too much understanding when it comes to Deontay Wilder walking away from the $100 million dollar deal laid at his feet by streaming service DAZN.

Also, don't expect too much understanding from regular folks when it comes to walking away from a guaranteed unification bout with Anthony Joshua-- perhaps THE most desired fight in the sport today.

But, really, why should Wilder, or any fighter for that matter, have to sign over his career and freedom in exchange for a fight he's earned and a payday he deserves?

Forget business as usual in boxing, think about what this says about how fighters are viewed as human beings in the sport. Boxing has come a long way in terms of athlete's rights and freedoms, but, when push comes to shove, it's clear that it hasn't completely left behind its taste for an indentured servitude-like employment style.

There still prevails an "if you want this money, this opportunity, we must own you" mentality in the sport. And, while that thinking is understandable from a management/ownership point of view, it's not a necessary concession (or, at least, it shouldn't be a necessary concession) from the one doing the fighting, providing the network content, and taking all the associated physical risks from combat.

A sport full of free men wouldn't kill the sport, it would just force the money men to pay fair market value and, in turn, force the sport's promoters to actually promote in an effort to create increased market value for fighters and greater return for networks.

Wilder's reluctance to sign the deals offered to him didn't kill a possible Joshua fight. What killed it was Joshua's inflexibility in being a network-owned, promoter-owned property. The bout could be signed tomorrow if Joshua's business ties didn't necessitate Wilder also signing his future over to Joshua's bossmen.

The really big fights will usually come together no matter what and, as a matter of fact, more big fights could be made if fighters' futures weren't flat-out owned by networks.

But would networks be willing to spend top dollar for boxing content if they didn't get some sort of guarantee for their investment? Of course they would. They currently don't have to, though, because, well, they just don't HAVE to.

Wilder, specifically, could make more money as a free agent, negotiating deals on a fight-by-fight basis than he'd ever be able to get as "exclusive content" from some broadcast entity. And, apparently, as Floyd Mayweather did years ago, he's realizing that a little independence goes a long way in bolstering one's market value.

"I'm betting on myself," Wilder recently told media, "and you can't go wrong with yourself...I love being a free agent, I love being able to move about doing what I do and we'll see what the future holds."

For now, as announced via press conference Tuesday morning in New York, the WBC heavyweight champ is staying put on Showtime, where he'll be facing mandatory challenger Dominic Breazeale at Brooklyn's Barclays Center on May 18. Breazeale was always in the picture next, but what people didn't know was whether the self-described free agent would be facing Breazeale on his longtime broadcast home, Showtime, or on the ambitious new streaming platform that works with IBF/WBA/WBO champ Joshua.

According to sources cited by ESPN, DAZN had two offers on the table for the heavy-handed Tuscaloosa, Alabama native. One deal would've reportedly paid him $20 million for the upcoming Breazeale contest and a minimum of $40 million, each, for a pair of Joshua fights. The other deal was said to be under similar terms, but with a $20 million bout against an opponent to be determined between the two Joshua clashes.

But, instead, at least for now, Wilder opted to not tie himself down with any sort of multi-fight deal.

"I feel like we've done absolutely all we can," Joshua promoter and DAZN figurehead, Eddie Hearn told media in response to rumors over the weekend that Wilder would turn down the DAZN deal. "Our job is to deliver the undisputed fight. It's been frustrating and I think people are beginning to see the truth. But again, I'll be quiet for now and let that truth unfold."

Meanwhile, the Showtime folks are just fine with the way all this has played out.

"Deontay has made a choice that both represents loyalty and will be financially lucrative for a long, long time," Stephen Espinoza, Showtime's president of sports, said during the Wilder news conference on Tuesday.

But before Espinoza and company high-five each other too enthusiastically over keeping their guy at home, it should be pointed out that a truly free agent Wilder could very well pick up his things and go elsewhere after this upcoming Breazeale bout.

Would Showtime (or any other network) embrace the noble concept of loyalty if Wilder were to get knocked out in his next fight or suffer a career-ending injury? Of course not. And that's why fighters must look out for themselves at all times. Embracing free agency is the best way to do that.