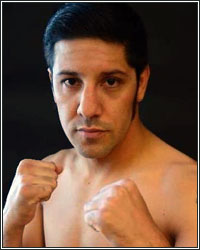 Undefeated former world champion David "El Bandera Roja" Benavidez and exciting veteran contenders Josesito "The Riverside Rocky" Lopez and John Molina Jr. all took part in a Los Angeles media workout on Thursday as they near their respective showdowns Saturday, September 28 as part of the FOX Sports PBC Pay-Per-View headlined by Errol Spence Jr. vs. Shawn Porter from STAPLES Center in Los Angeles.

Tickets for the September 28th event, which is promoted by Man Down Promotions, TGB Promotions and Shawn Porter Promotions, are on sale now and can be purchased at AXS.com.

Here is what the fighters had to say Thursday from City of Angels Boxing in Los Angeles:

JOHN MOLINA JR.

"Me and Josesito are both guys who took tough roads to get here and the fans love us because of what we always put into the ring. We leave everything in there and that's why the fans know this fight is going to be one to remember.

"I've been doing this a long time and I've seen just about everything in the sport. There's nothing new that Josesito can do to surprise me. At the end of the day, this is a fight. We're well prepared, and I know he is as well.

"Having to pull out of my previously scheduled fight left me with a burning desire inside. I was upset. I know I don't have to prove to the fans that I'm gritty, because they've seen what I do in the ring. But it still leaves a bad taste in my mouth. When this fight presented itself, I jumped at it.

"It's huge to be on this platform and it gives me a great opportunity to continue fighting for my family. It's motivating and it makes me want to give the fans everything they deserve.

"This whole card is stacked from top to bottom. It's all action and me and Josesito are going to give everyone a great Southern California brawl."

# # #

ABOUT SPENCE VS. PORTER

Spence vs. Porter pits unbeaten IBF Welterweight Champion Errol "The Truth" Spence Jr. against WBC Welterweight Champion "Showtime" Shawn Porter in a 147-pound title unification that headlines a FOX Sports PBC Pay-Per-View event on Saturday, September 28 from STAPLES Center in Los Angeles.

The pay-per-view event begins at 9 p.m. ET/6 p.m. PT and features WBC Super Middleweight World Champion Anthony "The Dog" Dirrell facing unbeaten former champion David "El Bandera Roja" Benavidez in the co-main event, unbeaten contenders Mario "El Azteca" Barrios and Batyr Akhmedov battling for the WBA Super Lightweight title, and rugged veteran Josesito "The Riverside Rocky" Lopez and brawler John Molina Jr. competing in a 10-round welterweight fight.

For more information: visit www.premierboxingchampions.com, http://www.foxsports.com/presspass/homepageand www.foxdeportes.com, follow on Twitter @PremierBoxing, @PBConFOX, @FOXSports, @FOXDeportes, @TGBPromotions and @Swanson_Comm or become a fan on Facebook at www.Facebook.com/PremierBoxingChampions, www.facebook.com/foxsports & www.facebook.com/foxdeportes.