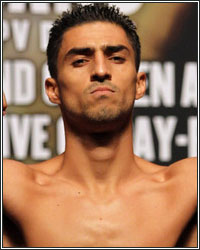 Undefeated former world champion David "El Bandera Roja" Benavidez and exciting veteran contenders Josesito "The Riverside Rocky" Lopez and John Molina Jr. all took part in a Los Angeles media workout on Thursday as they near their respective showdowns Saturday, September 28 as part of the FOX Sports PBC Pay-Per-View headlined by Errol Spence Jr. vs. Shawn Porter from STAPLES Center in Los Angeles.

Tickets for the September 28th event, which is promoted by Man Down Promotions, TGB Promotions and Shawn Porter Promotions, are on sale now and can be purchased at AXS.com.

Here is what the fighters had to say Thursday from City of Angels Boxing in Los Angeles:

JOSESITO LOPEZ

"A win opens up more opportunities. I've proven myself and I continue to prove to everyone that I belong in the ring with top fighters. I've given elite fighters some of their toughest fights. You're always in for an exciting fight with me.

"I don't underestimate John Molina Jr. I've seen him a lot throughout the years, just like I'm sure he's seen me. We know each other quite well, so the fans are in for a good one. We've both proven we have the heart and the will, now we have to prove it against each other.

"My preparation has given me confidence heading into this fight. I know that I can be in there with the best of them. I feel great physically, I'm focused mentally and those tough rounds against a fighter like Keith Thurman in my last fight definitely boosted up my confidence. I have to showcase everything on September 28.

"It's going to be an exciting fight. I've prepared for battle and I'm going to win. I'm ready to go through anything to get this victory.

"I don't feel pressure to make this an action fight, because this is one of those matchups where it's just going to happen naturally. This is an evenly-matched fight and everyone is going to get their money's worth.

"I don't really have a prediction but I think Spence vs. Porter is going to be an exciting fight. Spence has shown a lot but Porter is tough dog and I'm sure he's going to give him everything he's got. The entire card is action. It's a can't miss pay-per-view from top to bottom and I'm excited to be a part of it."

# # #

ABOUT SPENCE VS. PORTER

Spence vs. Porter pits unbeaten IBF Welterweight Champion Errol "The Truth" Spence Jr. against WBC Welterweight Champion "Showtime" Shawn Porter in a 147-pound title unification that headlines a FOX Sports PBC Pay-Per-View event on Saturday, September 28 from STAPLES Center in Los Angeles.

The pay-per-view event begins at 9 p.m. ET/6 p.m. PT and features WBC Super Middleweight World Champion Anthony "The Dog" Dirrell facing unbeaten former champion David "El Bandera Roja" Benavidez in the co-main event, unbeaten contenders Mario "El Azteca" Barrios and Batyr Akhmedov battling for the WBA Super Lightweight title, and rugged veteran Josesito "The Riverside Rocky" Lopez and brawler John Molina Jr. competing in a 10-round welterweight fight.

For more information: visit www.premierboxingchampions.com, http://www.foxsports.com/presspass/homepageand www.foxdeportes.com, follow on Twitter @PremierBoxing, @PBConFOX, @FOXSports, @FOXDeportes, @TGBPromotions and @Swanson_Comm or become a fan on Facebook at www.Facebook.com/PremierBoxingChampions, www.facebook.com/foxsports & www.facebook.com/foxdeportes.