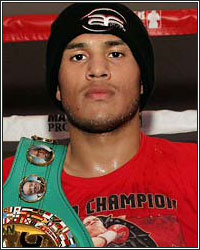 Undefeated former world champion David "El Bandera Roja" Benavidez and exciting veteran contenders Josesito "The Riverside Rocky" Lopez and John Molina Jr. all took part in a Los Angeles media workout on Thursday as they near their respective showdowns Saturday, September 28 as part of the FOX Sports PBC Pay-Per-View headlined by Errol Spence Jr. vs. Shawn Porter from STAPLES Center in Los Angeles.

Tickets for the September 28th event, which is promoted by Man Down Promotions, TGB Promotions and Shawn Porter Promotions, are on sale now and can be purchased at AXS.com.

Here is what the fighters had to say Thursday from City of Angels Boxing in Los Angeles:

DAVID BENAVIDEZ

"It's always good to study your opponent. We know what his strengths and weaknesses are. He's got a good right hook and an uppercut. I know what to expect, but in the fight there can always be more aspects to his game I didn't see. So we're ready for anything.

"The last six fighters I've faced have all talked about how they have more experience than me, and it's true, but they've all been beat. I'm not going to intimidated by anybody. Nobody scares me. I'm just here to do what I do best. I did everything right and we'll see the results on September 28.

"I'm looking to knock Anthony Dirrell out. If we don't get it, I'm going to give the fans a great fight. Either way, I'm looking to dominate.

"I've been watching Sugar Ray Leonard this camp, especially his movement. I've watched Marco Antonio Barrera and his vicious body shot power. Erik Morales, Manny Pacquiao and Floyd Mayweather too. I love watching old fights like theirs.

"I've had a lot of great opportunities in recent years and that was all that was missing from the beginning of my career. I'm very blessed to be in this position and grateful for my team that got me here. I'm going to continue to shine.

"I'm very motivated to lead this next generation of fighters and excited to see what's going to happen. I follow a lot of the other fighters around my age and we're making a lot of noise now.

"I learned a lot from sparring Shawn Porter. I've been sparring older guys since I was a kid. In the amateurs I always fought guys older than me. I've been doing this all my life.

"We do a lot of sparring with a lot of different fighters. If you can adapt to four different styles in one sparring session, imagine going up against just one style in the ring. That's something my dad has told me to do and it works well for us."

# # #

ABOUT SPENCE VS. PORTER

Spence vs. Porter pits unbeaten IBF Welterweight Champion Errol "The Truth" Spence Jr. against WBC Welterweight Champion "Showtime" Shawn Porter in a 147-pound title unification that headlines a FOX Sports PBC Pay-Per-View event on Saturday, September 28 from STAPLES Center in Los Angeles.

The pay-per-view event begins at 9 p.m. ET/6 p.m. PT and features WBC Super Middleweight World Champion Anthony "The Dog" Dirrell facing unbeaten former champion David "El Bandera Roja" Benavidez in the co-main event, unbeaten contenders Mario "El Azteca" Barrios and Batyr Akhmedov battling for the WBA Super Lightweight title, and rugged veteran Josesito "The Riverside Rocky" Lopez and brawler John Molina Jr. competing in a 10-round welterweight fight.

For more information: visit www.premierboxingchampions.com, http://www.foxsports.com/presspass/homepageand www.foxdeportes.com, follow on Twitter @PremierBoxing, @PBConFOX, @FOXSports, @FOXDeportes, @TGBPromotions and @Swanson_Comm or become a fan on Facebook at www.Facebook.com/PremierBoxingChampions, www.facebook.com/foxsports & www.facebook.com/foxdeportes.