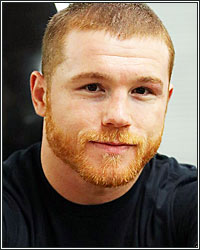 Nobody in boxing has earned a paycheck since the sport got put on hold by the Covid-19 pandemic back in March. That's more than two full months in limbo. But for everyone who could, can, or might get a fat payday from fighting Saul "Canelo" Alvarez, there hasn't been a payday for awhile.

Gennady Golovkin last got paid in October when he got beaten up and should've been beaten by Sergiy Derevyanchenko. Demetrius Andrade last fought in January. Jamie Munguia last fought in January as well. David Benavidez's last pay day was last September against Anthony Dirrell. Billy Joe Saunders last cashed a paycheck last November. Callum Smith also cashed his last paycheck in November. Caleb Plant fought in February. Jermall Charlo's last bout was last December.

Whether they care to admit it or not, these guys are aching for a payoff right about now and the Mexican superstar represents the quickest route to making their bankbooks happy once again.

Well, maybe except for Golovkin, who's fat, fat eight-figure guaranteed DAZN payout makes him more eager than ever to fulfill his mandatory defense obligations-- as long as it's against a light-hitting, mushy Polish pierogi like Kamil Szeremeta.

Everyone else, though-- and I mean just about everyone from 154 to 175-- is lining up at Canelo's door like eager kids Trick or Treating on Halloween at the neighborhood house that gives out full-size candy bars.

Like him or not, Canelo is cock of the walk and he'll have his pick of opponents when the green light is given to boxing.

Right now, according to trainer Eddy Reynoso, a plan is in place for the rest of 2020, although it's not exactly set in stone.

"We realistically want two fights this year," Reynoso told Box Azteca. "We couldn't fight in May, so we are looking at September and December. We're talking about [potential opponents] like Billy Joe Saunders.

"There's also Caleb Plant and the WBC world titleholder at 168 pounds [David Benavidez]. There are several [options]...Golovkin could be the fight for December. His people have already said that he doesn't want to fight Canelo until after the [Kamil Szeremeta] fight."

Alvarez, himself, hasn't seen a paycheck since last November, when he knocked out light heavyweight titlist Sergey Kovalev in the eleventh round. But the 29-year-old from Guadalajara isn't exactly strapped for cash, hoping for a Mexican pandemic stimulus check. He could go for a good, long while without another payday.

Actually, it'll be a test of Alvarez's mindset and competitive spirit to see who he chooses as his comeback opponent. He has a hurting DAZN over a barrel and could probably get away with a mega-soft touch in his targeted September return. If he opts to face one of the names mentioned above or even a qualified contender along the lines of a Derevyanchenko, Chris Eubank Jr., or David Lemieux, then he deserves some real credit.

To Alvarez's possible opposition, a Canelo fight is an even bigger deal in the Covid world than it was before the worldwide pandemic. It represents money-- big money-- but also a chance to reset their career narratives in this boxing New World Order.

New stars WILL be made once the boxing world rushes to suck up fight energy once again. Audiences should be big and fans will be paying closer attention than ever. A win over the biggest star in boxing would bring next-level stardom.

For now, however, we wait.

To be specific, we wait on Canelo.