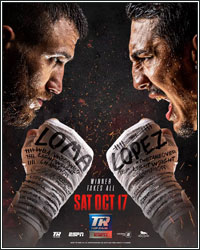 Okay...Bob Arum, ESPN, and boxing in general can breathe a sigh of relief. Saturday's 4-title lightweight showdown between Vasiliy Lomachenko and Teofimo Lopez was NOT a ratings bust. Actually, it delivered very good numbers in a downtime for ratings in all sports, across the board.

According to Nielsen Media Research, the ESPN main event from inside the "bubble" at the MGM Grand in Las Vegas averaged 2,729,000 viewers and peaked at 2,898,000, making it the highest rated cable boxing program since the 2017 Manny Pacquiao-Jeff Horn bout (which averaged 2,812,000 viewers). Overall, the seven-bout card, which ran just under six hours, averaged 1,534,000 viewers, making it the seventh highest-rated cable sports show on Saturday.

Of course, the numbers are only impressive in the relative present tense. As recently as the late 90's, main stage boxing events used to routinely deliver much higher numbers. Even a relatively "nothing" fight like David Reid vs. Laurent Boudouani in 1999 brought in more than 3 million viewers for HBO, which had a significantly lower subscriber tally than the 83 million who currently have basic cable ESPN.

There were legit fears that Lopez-Lomachenko, because of the current post-lockdown Covid situation and just a general downturn in boxing ratings, overall, would under-perform. ESPN had gambled in putting this fight on their main stage, investing a bit more money into this bout in hopes that it would bring in more revenue as a "free" event than as a PPV card or as a subscriber-generator for ESPN+. A ratings fail on Saturday night could've hurt the chances of other premium-quality bouts making their way to "free" TV.

There were concerns that while Lomachenko has been a solid ratings generator when shown outside of the ESPN subscription-only paid app, Lopez was relatively unknown among all but the most hardcore of fight fans. Up until this last bout, the legitimately electrifying 23-year-old's greatest ratings bragging point was delivering the lowest average viewership of the three fights in a somewhat well-rated December 12 ESPN triple-header.

But the lightweight title fight was highly anticipated among hardcore boxing fans and considered a quality matchup between a pound-for-pound modern great and a charismatic, explosive young star-in-the-making. In the days leading up to the unification bout, social media was absolutely lit up with Lopez and Lomachenko chatter.

Saturday's solid ratings performance shows that matchmaking absolutely matters and that hardcore fans, as frequently abused and put-off as they are, will respond when given something they know is quality content. There also may be some evidence to show that more than a few casual-curious non-hardcore types were swept into the hype and lured to the TV screen.

This is definitely something that can be built upon.

In the contest, itself, IBF lightweight champ, Lopez, annexed the WBA, WBO, and WBC Franchise titles via unanimous decision, putting an end to Lomachenko's run as consensus top dog in the division and disputed pound-for-pound no. 1 in the world.

The first seven rounds were slow and uneventful, with Lomachenko playing defense and Lopez unable to land consistently. Things picked up steam in the closing rounds, however, and fans, for the most part, seemed to be satisfied with both the outcome and the entertainment value.

There was no rematch clause in the fighters' contracts and Lopez has stated his desire to move up to junior welterweight for a title run there. But, given the ratings success, there may be some buzz about a return bout and, because boxing is boxing, that one very well could end up on PPV.