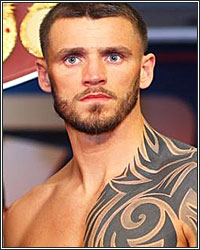 Is a Tree Leaning Dangerously Over Your Home?

That's the headline on the Team Smith Tree Service website, the closest thing light heavyweight banger Joe Smith Jr. has to a website.

Smith used his boxing earnings in 2017 to open the tree service with his father, following a rough loss to Sullivan Barrera that seemed to mark the end of his unlikely run near the top of a pretty stacked 175 lb. division.

The Long Island/Suffolk County native, who worked a full-time construction gig throughout his pro career, had managed to parlay two very heavy hands, a will to win, and a large degree of perceived vulnerability into a nice run. Back-to-back KO upsets of Andrzej Fonfara and then Bernard Hopkins, who Smith literally punched through the ropes and into retirement, seemed to spell "money score" for the underdog battler.

But dubious business decisions from his people and general bad timing saw him miss out on title opportunities against the likes of Adonis Stevenson, Sergey Kovalev, and then Andre Ward. Instead, his team pushed him into a high-risk/low reward HBO undercard bout against Barrera, which he lost via unanimous decision.

Despite never getting the huge money score he should've gotten from retiring someone like Hopkins, Smith's phone hasn't stopped ringing. With a degree of name value and, again, perceived vulnerability, he got a shot at Dmitry Bivol's WBA light heavyweight title in 2019. His one-sided scorecard loss to Bivol then got him opportunities against Jesse Hart and Eleider Alvarez, which he made the most of.

His victories over Hart and Alvarez got him to where he is right now, in an ESPN bout this Saturday against Russia's Maxim Vlasov for the vacant WBO light heavyweight title. The contest was originally scheduled for February, but Vlasov testing positive for Covid-19 put the temporary kibosh on a week's festivities that also included Smith's Vegas wedding.

The 31-year-old went ahead with the wedding anyway and then went right back into camp for the rescheduled title bout.

Now, Smith is just days away from the world title he's coveted for his entire career-- and the world champ status many felt was way above his ability.

Perseverance has definitely played a role in him staying near the top for so long. His two-fisted power has also played a role. But there's also the less romantic reality that he's been around and about for so long, through losses that might've sunk others' careers permanently, because boxing is a business and because Smith is a valuable commodity as an opponent.

A white, blue-collar fighter with one-punch power, a legitimate main stage presence, and an interesting backstory is always valuable to a promotion. You know that by the amount of articles written about him and his unlikely climb to the top before each of his big-fight opportunities (including this article, I guess). The fact that he has name value and is stylistically beatable also plays a big role in him getting calls to face higher-end talent.

To his credit, though, Smith has made good use of his foot in the door and usually fights his ass off when given a shot. And his script-flipping punching power is a real factor in every fight he has. There are many reasons why this guy is a compelling watch.

If he gets by Vlasov this Saturday, WBC/IBF champ Artur Beterbiev (who Smith ironically refers to as "strong" but "one-dimensional") is next on the agenda.

But, first, there's the matter of his long-overdue honeymoon. And, maybe, a tree or two that needs to be trimmed or removed back in Suffolk County.