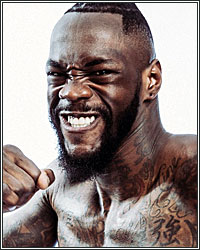 Inspired by the Marvel/Disney Plus series "What If" and as a tribute to the old school comic that inspired it, here's a bit of "What If-ism" pointed at the boxing world. Agree, disagree, hurl personal insults in the comment section below.

Wannabe Netflix of Sports, DAZN, burst upon the boxing scene in 2018 with a billion-dollar budget, a modest handful of contract players, and UK promoter Eddie Hearn, who had 3-belt heavyweight champ Anthony Joshua under contract.

After spending nearly a half-billion dollars to sign Saul "Canelo"Alvarez and Gennadiy Golovkin to exclusive multi-year contracts, DAZN then set its sights on the heavyweight division.

With a failed $15 million one-fight offer made to WBC champ Deontay Wilder not too far in the past, the streaming service made a considerably larger play to bring the American aboard for a Joshua title unification event.

The offer on the table was three fights for $100 million-- $20 million for his mandatory against Dominick Breazeale and $40 million, apiece, for two Anthony Joshua fights.

In an effort to maintain his independence and keep control of his own business destiny, Wilder would turn down that offer. The move put in motion a series of events that would see him take a return bout against Luis Ortiz and then suffer back-to-back crushing losses to Tyson Fury.

But What If Deontay Wilder had signed with DAZN?

After crushing Dominick Breazeale via brutal one-round knockout, Wilder called a ringside Anthony Joshua into the ring.

"I'm the man. I'm the champ," Wilder shouted at Joshua, who was at first bemused by the brash American, smirking at the brutish bravado, but then legitimately agitated as Wilder got more and more in his face.

A pushing match ensued with members of both fighters' camps getting into skirmishes. As security rushed to restore order, social media exploded with excitement.

Thus, the stage was set for the most anticipated heavyweight battle since Tyson-Lewis.

The showdown six months later did not disappoint. Wilder pushed the sometimes too patient and conservative Joshua into a firefight, squeezing fire and competitive pride out of the Brit after an embarrassing knockdown in the opening 45 seconds of the bout put him immediately behind.

Joshua survived some rough patches against the always-aggressive Wilder and eventually landed a kill shot in the ninth round in the form of a big right hand.

A dazed Wilder would hit the canvas hard, unable to make the ten count.

The wild battle, which immediately jumped to the front of the line in Fight of the Year consideration, would be revisited 8 months later at a packed and raucous Wembley Stadium in Joshua's English backyard.

Part 2 of this rivalry would fall well short of the excitement in part 1, however.

A cautious and jab-dominant Joshua was clearly focused on not walking through the fire he had to survive in their first bout. With a stick and move strategy in place, the unified heavyweight champ stunk up the big event, but safely made his way to a unanimous decision victory.

An enraged and frustrated Wilder would immediately leave the ring and refuse all post-fight interviews. He'd move on to a long road of stay-busy fights against second-tier competition in hopes of getting another shot at some sort of championship bout, either with Joshua or whoever may beat Joshua. That biding of time would end abruptly when he's dropped and stopped in a stunning upset against Andy Ruiz (who, in this alternate reality, never got to fight Anthony Joshua and would have to wait for his shot at this other upset).

Joshua went on to defend his title two more times before losing via unanimous decision to Tyson Fury in a mega-lucrative all-UK mega-fight. Despite the fight not exactly being an all-action war, interest would be enough for a rematch, which Joshua would again lose via unanimous decision.

Six months later, Fury would survive a knockdown and some early trouble before decisioning Andy Ruiz in his second defense of the unified heavyweight championship.