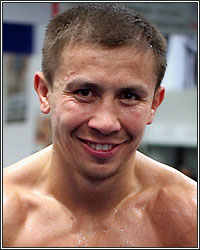 With end-of-year, best of the best awards clogging up space on boxing websites this holiday season (because, frankly, they're easy content/filler at a time of year where not much is happening in the sport and writers aren't too keen on working all that hard), I decided to take a stab at something significantly more cynical (and more honest).

Here's Magno's list of fighters (in no particular order) who, in 2021, either needlessly wasted a year of their lives by going MIA or who deeply underachieved. So, Happy New Year, let's let the hate and negativity flow!

Mikey Garcia

Talk about a bad career decision. Mikey's move to welterweight was about as smart as my decision to eat at that one roadside taco stand next to a gigantic pool of stagnant pond water. Yeah, he cashed in a big check for being dominated by Errol Spence and cashed another big check from the suckers at DAZN for fighting Jessie Vargas. But, in terms of legacy and the long-term health of his career, moving to 147 was a total dead end. And that proverbial dead end might've led to a literal dead end with his listless, lifeless loss to massive underdog Sandor Martin back in October. I mean, FFS, Mikey was a legit pound-for-pound guy and a sweetheart of boxing purists just three years ago. As it turns out, making the leap to 147, waiting a couple years on a Pacquiao bout that would never materialize, was not a great move. Bonus shitty career decision points to Team Garcia for taking on Martin, an awkward southpaw mover, after a 20-month layoff.

Danny Garcia

Say what you will about Danny Garcia, but the guy has skills and, honestly, despite his three high-profile career losses (which were all relatively close and against high-end opposition), you could still make the argument that he's no worse than no. 6 or no. 7 in a very top-heavy and talented welterweight division. His last fight was a loss to Errol Spence in December of 2020 where he accounted pretty well for himself. Forget that nonsense about him moving up to 154, he should be in the thick of things at 147 (and not calling out the winner of Amir Khan-Kell Brook).

Gennadiy Golovkin

The Kazakh's skills as a hustler have long been underrated, especially coming off one of the biggest hustles in boxing history when he somehow got a 6-fight deal with DAZN in 2019, worth in excess of $100 million, at nearly 37 years of age, with, reportedly, little-to-no quality control guarantees when it came to matchmaking. So far, for their Golovkin money, the brain-addled DAZN has gotten blowouts against no-hopers Steve Rolls and Kamil Szeremeta and a near loss to Sergey Derevyanchenko (in a bout for the vacant IBF middleweight title that was forced on Golovkin). In 2021, the 39-year-old GGG did, literally, nothing. His one fight for the year—a fairly crappy "title unification" with WBA paper champ Ryota Murata, schedule for New Year's Eve in Japan-- was scrapped due to Covid restrictions. "Luckily" for the boxing world, though, it was rescheduled for March/April of 2022. Hurray!

Ryan Garcia

"KingRy" started 2021 knocking out Luke Campbell, looking like he was finally putting it all together to become the fighter his raw talent suggests he can be. He's finishing 2021 talking smack on Instagram, trying to wrangle a fight with the guy who just loss to Gervonta Davis. In between, the 23-year-old gave us nothing but downtime and promises of fights he would never deliver. He backed out of a fight with Javier Fortuna earlier in the year due to mental health issues and then bowed out of a bout with Jo Jo Diaz after a hand injury. He IS only 23, but so is Devin Haney and Teofimo Lopez is 24. So, Ryan needs to ease up on the social media bluster until he at least has something going on in the ring.

Gary Russell Jr.

Ol' once-a-year Russell outdid himself this time by nearly going two years between fights. The 33-year-old WBC featherweight champ last fought in February of 2020 and isn't scheduled to fight again until January 22 of this coming year. So, yeah, COVID messed up a lot of fight plans over the first three-quarters of 2020, but other top fighters found ways to fight twice and thrice through the COVID mess in 2020 and 2021. Russell is a tremendous talent and a joy to watch, but with just six fights since the end of 2014, he's pissing away his athletic and money-earning prime.

Keith Thurman

Yeah, well, he's Keith Thurman. He last fought in July 2019, performing reasonably well in defeat to Manny Pacquiao, and is now back with a lot of headline-grabbing quotes and eyeroll-worthy challenges to the elite. He has a February bout scheduled against former junior welterweight titlist Mario Barrios.

Regis Prograis

As recently as mid-2019, the "Rougarou" was thought of as a superstar-in-the-making. And, even after a close decision loss to pound-for-pound guy Josh Taylor in October of 2019, his stock had not fallen all that much. Then, however, came an ill-advised stab at promotional free agency that led to a one-off undercard spot on a PBC show and a dip into the pools of pointless filler fodder on Triller's Jake Paul-Ben Askren PPV card. Free agency is usually a good thing for fighters, but only for those with the name value and business acumen to pull it off. Prograis clearly wasn't there yet. His recent signing with Richard Scheaefer's new promotional company, Probellum, will definitely help in pulling himself out from the "Whatever happened to Prograis" file.