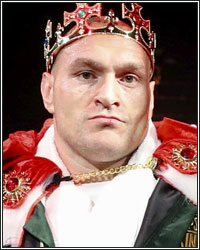 What if we had a division with all champions and no contenders? Well, that's not exactly the case right now in the heavyweight division, but getting a shrinking list of high-end contenders to spots where they can actually challenge the two reigning world titlists is proving to be an increasingly daunting task.

Right now, WBC champ Tyson Fury and IBF/WBA/WBO titlist Oleksandr Usyk sit atop the sport's glamour division. Fury got to the top by crushing Deontay Wilder twice in a row-- once to win the belt and the other time in defense of it. Usyk got to the top by decisioning 3-belt champ Anthony Joshua back in September.

But, despite there being a clear no. 1 and no. 2 now, the pack of challengers beneath them is thin and seemingly detached from actual title contention.

Joshua is getting first dibs on winning his belts back from Usyk. And, despite an ultra-flat effort lacking in anything resembling fire the first time around, he very well could recapture his titles. Physically, he's that gifted. It wouldn't be hard to imagine him jabbing his way to a cautious win over Usyk or even blowing him away with something big. It also wouldn't be hard to imagine him being outworked and out-hustled again by an Usyk who just wants the win much more than he does.

Behind Usyk/Joshua, there's a bit of a murky mess.

When Luis Ortiz knocked Charles Martin into another reality on New Year's Day, he was credited with winning an IBF title eliminator. That SHOULD mean a placement near the front of the line when it comes to the winner of the Usyk-Joshua rematch. The top contender spot in the IBF, however, seems to be still in question as Croatia's Filip Hrgovic is reportedly headed towards a "final eliminator" in the not-too-distant future. The WBO, meanwhile, has their own no. 1 contender in Joe Joyce and the WBA has Daniel Dubois, who was stopped by Joyce in 2020, as their top contender, as well as Trevor Bryan who currently holds their "regular" world title.

Back on Tyson Fury's side of the fence, the WBC still has Deontay Wilder listed as no. 1 contender in their last posted rankings. Dillian Whyte, though, is their interim champ and the logical choice for mandatory contender as, well, their mandatory challenge for over 1,000 days already. As a matter of fact, the sanctioning body DID order a Fury-Whyte fight this last month, issuing an 80/20 purse split that flies in the face of their usual 55/45 split for champ vs. interim champ matches-- a move that will, most likely, put the kibosh on the matchup altogether. Fury co-promoter Bob Arum has threatened to move on from a Whyte fight if the money is not right and a scheduled January 11 purse bid would probably do nothing to secure the bout if the 80/20 split stays in place.

If the Whyte fight doesn't happen, Arum has tossed out the names of Andy Ruiz and Joseph Parker as possible Fury opponents. But if it were up to Fury and his team, he would've paid Anthony Joshua step-aside money to get next crack at Oleksandr Usyk to fully unify the division and then would've taken on Joshua in a blockbuster the next fight.

Beyond the names swirling about most often as contenders-- Dillian Whyte, Luis Ortiz, Andy Ruiz, Filip Hrgovic, Joe Joyce, Joseph Parker-- there are a few other fighters mentioned as challengers for both of the world champs. Robert Helenius has gotten some attention after back-to-back wins over Adam Kownacki. Cuba's Frank Sanchez, who's trained by Canelo Alvarez trainer Eddy Reynoso, is certainly talented and skilled enough to get a title shot, although he may be too much of a high-risk/low-reward opponent right now for either champ. Hughie Fury could have the name value needed for a shot at the winner of Usyk-Joshua 2.

Aside from a small handful of possible title challengers, there's a dearth of actual world class heavyweights with a legitimate chance of giving either of the champs a stiff challenge at the moment.

That would lead to the ultimate-- and, by far-- best solution in the present tense. The top dogs need to unify and, while they're sorting out their business, the contenders can battle among themselves until there's only one battle-tested, undisputed top contender left. That's how they used to do it in the old days, anyway.