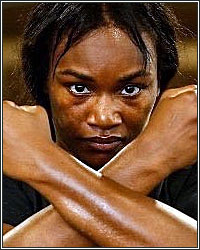 Boxing superstar Claressa "G.W.O.A.T." Shields successfully defended her WBC/WBA/IBF Middleweight world titles Saturday night with a unanimous decision victory over previously unbeaten top-rated challenger Ema Kozin from Cardiff, Wales.

Shields dominated the action on her way to a clean sweep on the judges' scorecards, with all three seeing the fight 100-90 for boxing's only two-division undisputed champion.

With WBO Middleweight Champion Savannah Marshall ringside, Shields moved one step closer to a highly-anticipated grudge match against Marshall later this year. Marshall owns an amateur victory over Shields, the only boxing defeat Shields has ever suffered in the amateur or pro ranks.