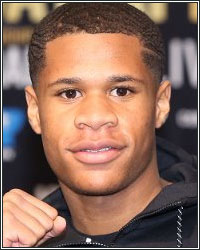 Devin "The Dream" Haney (28-0, 15 KOs) became the undisputed lightweight champion of the world by outclassing George "Ferocious" Kambosos Jr. (20-1, 10 KOs) en route to a 12-round unanimous decision in front of 41,129 fans on Sunday afternoon at Marvel Stadium in Melbourne, Australia.

Haney unified his WBC championship with Kambosos' WBA/WBO/IBF and Ring Magazine lightweight titles. With two scores of 116-112 and one score of 118-110, he became the eighth fighter in history to capture all four major championship titles in the four-belt era and the first to do so at 135 pounds.

Prior to the fight, Haney felt as if all the odds were stacked against him. He came in as the challenger, fighting on enemy territory in a stadium full of people wishing and hoping to see him lose. It even appeared as if his father would not be able to be in his corner for the fight.

But, if Bill Haney's eleventh-hour entry into Australia indicated anything, it was that today belonged to Devin, and nothing would prevent his victory.

Indeed, though both men initiated the bout with firm, confident jabs, it was Haney's superior boxing skills that allowed him to find his rhythm by the third and fourth rounds. Kambosos' right hand seemed to be a factor early, but Haney's footwork, his ability to smother and clinch on the inside, and even the way he would stop the former champion in his tracks with a stiff jab, prevented Kambosos from landing any significant punches.

By the final rounds, Haney had nullified Kambosos' offense to such a degree that he could even take the gas off the pedal in the 12th round and cruise to a decision win.

Haney said, "This is a dream come true. I was going through it without my dad being here because I knew it was a big moment for us. We both dreamed of this. Since we started out, we said we wanted to be the best. It would have hurt me to accomplish this without him. I'm so thankful that we were able to accomplish this together.

"I was comfortable. I was just sticking to the game plan. The game plan was to go there and hit and not get hit, and I did that for the majority of the fight. I took the last round off just because I knew I was comfortably ahead, but I fought a good, smart fight."

"I handicapped him of his best things. He wanted to land the overhand right, and he wanted to land the big left hook. I handicapped him. I was fighting both ways. When I would go to the left, I would fight his right hand. When I would go to the right, I would fight his left hook. And he couldn't hit me with neither one of them."

"I want to thank George Kambosos and all of Australia for coming out. Thank you, George, for giving me the shot. All of these so-called champions would not give me my shot. But George was a true champion, and he gave me my shot. Thank you for this.

Kambosos said, "This was amazing for the sport. It was amazing for the country. At the end of the day, I wanted to take the best and hardest tests. I'm going to give him full respect after his victory today. Let him have his time, and we'll do it again. I have to implement a few things, but I thought the fight was very close. I'm not going to wreck his moment. I'll let him have his moment. Last November, my moment was wrecked, so let him have his moment, and I'll see you again real soon.

"I landed the right hand a few times. I worked it to the body, but he had a smart game plan. He grabbed and held a lot and did what he had to do to win. That's what it's about. You do what you have to do to win, and today they gave him the decision, but I'm sure it will change when we get it on again. Respect to him, and respect to boxing. This is boxing. You fight the best. Win, lose or draw. This is what it's all about. F*** protecting records. I've always been about fighting the best. I gave him a shot, and we'll do it again."

Moloney Crushes Palicte

Two-time bantamweight title challenger Jason "Mayhem" Moloney (24-2, 19 KOs) delivered a spectacular third-round technical knockout victory against rugged Filipino Aston "Mighty" Palicte (28-5-1, 23 KOs). Moloney, inspired by the cheers of his countrymen, initiated the bout with a firm jab in the first round before finding his rhythm and attacking the body in the second. By the following round, Moloney had his target set and landed a perfectly-timed one-two combo that sent Palicte to the canvas. Moloney then ended matters with a quick flurry that forced the referee to put a halt to the fight at 2:35 of the third. Moloney retained his WBC Silver Bantamweight Title and added to his collection the vacant WBO International belt.

In other results:

BANTAMWEIGHT: Andrew Moloney (24-2, 16 KOs) TKO 2 Alexander Espinoza (21-4-2, 8 KOs). Time: 3:00.

CRUISERWEIGHT: David Nyika (3-0, 2 KOS) UD 5 Karim Maatalla (2-2, 2 KOs). Scores: 49-46, 48-47 and 49-46

HEAVYWEIGHT: Hemi Ahio (19-0, 14 KOs) TKO 1 Christian Ndzie Tsoye (5-5-2, 4 KOs)

HEAVYWEIGHT: Lucas Browne (31-3, 27 KOs) KO 1 Junior Fa (19-2, 10 KOs). Time: 1:58.

JUNIOR MIDDLEWEIGHT: Terry Nickolas (2-1-1, 2 KOS) DRAW 6 Lachlan Higgins (7-4-2, 2 KOs). Scores: 58-56 Higgins, 57-57 2x.

FLYWEIGHT: Taylah Robertson (5-1, 1 KO) UD 5 Sarah Higginson (3-1-1, 1 KO). Scores: 50-45 3x

WELTERWEIGHT: Yoel Angeloni (1-0) UD 4 Ken Aitken (3-1, 1 KO). Scores: 39-37 2x and 40-36.