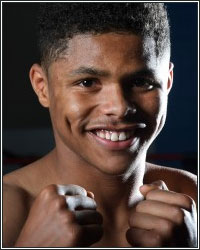 The Magno's USA Top 10 has been a Fourth of July tradition for years, dating back to even before I started writing for FightHype.com. I can't recall a time, however, when there's been more high-end, elite-level talent packed into the upper echelons of the American fight scene. And, best of all, these top fighters are actually (for the most part) making the legacy-defining bouts needed to prove their greatness.

So, here I am with my yearly stab at who's who and who's where among American fighters. And, per usual disclaimer, this is all very subjective and 100% my point of view, based on my take on a fighter's inherent talent/skill, recent body of work, and overall resume. If you disagree, good for you.

1. Shakur Stevenson (18-0, 9 KOs)

How's this for a shakeup? The 25-year-old Stevenson didn't even make the Top 10 last year and now he moves directly to the no. 1 spot. Well, everyone knew that the kid had extreme elite-level skills and talent, but his body of work had been sorely lacking. The world was just waiting on Shakur to score the kinds of wins, over the right kind of opposition, to prove he belonged among the elite of the elite. This past year he did just that with dominant world title wins over Jamel Herring and Oscar Valdez.

2. Errol Spence (28-0, 22 KOs)

"The Truth" managed to hold the no. 1 spot on this list two years in a row, but the lower-case truth is that he just hasn't been active enough to keep that position against younger, hungrier, healthier contenders. Accidents and injuries have kept the 32-year-old from strengthening his legacy all that much, although his dominant stoppage of Yordenis Ugas in April to grabe a third welterweight belt was very impressive. If he manages to beat Terence Crawford in the rumored welterweight unification clash later this year, he'll most likely take back a firm hold on his old no. 1 slot.

3. Terence Crawford (38-0, 29 KOs)

It seems like every year WBO welterweight champ Crawford gets pegged with the same criticism: "He may be the best all-around fighter on this list, BUT he's not active enough/hasn't faced a high enough level of opposition." This year is no different as his solid stoppage of Shawn Porter in November failed to move the needle all that much in the "Crawford is the best" argument. If his rumored clash with Errol Spence comes through and he can score the major welterweight title-unifying victory, it'll be hard not to make him a firm no. 1 on this list.

4. Jermell Charlo (35-1-1, 19 KOs)

I'll keep saying this until it seeps into the boxing collective unconscious (or until I get tired of trying), but what Jermell Charlo has done at 154 is almost criminally underappreciated by fans and media. Now a fully-unified 4-belt world champ at junior middleweight after stopping WBO titlist Brian Castano in a second go at the Argentine this past May, Charlo worked his way to the very top in a very old school way—by besting the best of the best in a talented, competitive division.

5. Gervonta Davis (27-0, 25 KOs)

"Tank" had a breakthrough run in 2020-2021 and seemed to be on the verge of living up to his full potential. Late-2021/2022, however, has been a bit of a letdown as he eased back a bit on his level of opposition and, in the face of a lightweight division packed with high-end talent, opted to face limited battler Isaac Cruz and the very limited banger Rolando "Rolly" Romero. The 27-year-old's talent is still there and he continues to be one of the most bankable draws in the sport (especially among American fighters). With his explosive one-punch power, he also continues to be one of the most exciting fighters in the game. It's just that he's got to step up the level of his opposition.

6. Devin Haney (28-0, 15 KOs)

The 23-year-old Haney made some big moves over the last year or so. A solid win over Joseph Diaz Jr. in defense of his WBC lightweight title last December preceded June's big win in Australia over 3-belt lightweight champ George Kambosos Jr. The victory made Haney the latest 4-belt, fully-unified world titlist and opened the door for possible next-level stardom.

7. Jesse Rodriguez (16-0, 11 KOs)

22-year-old "Bam" Rodriguez is in the midst of a monstrous breakthrough run. 3-0 since last July 4th, the San Antonio, Texas native holds huge world championship wins over Carlos Cuadras and Srisaket Sor Rungvisai. The skill and style he showed in stopping Sor Rungvisai, especially, garnered a lot of attention and earned him massive respect from many smart boxing people.

8. Stephen Fulton (21-0, 8 KOs)

If you're sleeping on the moves "Cool Boy Steph" has been making the last couple years, shame on you. With his unique mix of boxing ability and willingness to throw hands, Fulton unified the WBO and WBC super bantamweight titles in a Fight of the Year-caliber battle with Brandon Figueroa last November and then successfully defended his two belts last month against former unified champ Daniel Roman via one-sided schooling.

9. Jaron Ennis (29-0, 27 KOs)

"Boots" Ennis just may be the must exciting young fighter in the game. Quick blowouts of the usually durable Thomas Dulorme and Custio Clayton have added to the reputation of the 25-year-old Philly fighter. Best of all, Ennis is rising just as elite-level welters Errol Spence and Terence Crawford have peaked. Ennis will have to go through one or both of them to get to the top of the division—and that's going to be great.

10. David Benavidez (26-0, 23 KOs)

Benavidez is a joy to watch and is one of the best offensive fighters in the game. His brutal blowout of David Lemieux in May was a testament to his entertainment value. The problem is his continued lack of greatness-defining opposition—a problem that doesn't seem to be going away any time soon. Yes, that problem may be caused by others' unwillingness to face the risk vs. reward dilemma he presents, but it's still a problem affecting his career nonetheless. Like other avoided fighters, he's just going to have to make some concessions and sacrifices to find a way to get the big fights he needs (as well as stop sabotaging his own career progress).