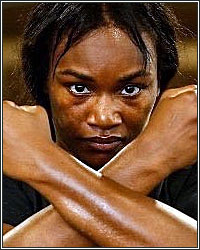 Undisputed Middleweight World Champion and Michigan's own Claressa "GWOAT" Shields will make a homecoming return as she headlines the first boxing event in the history of Little Caesars Arena in Detroit on Saturday, June 3 taking on four-division champion Hanna Gabriels in a rematch that will stream live on DAZN in the U.S. and Canada.

Shields and Gabriels will go face-to-face to preview the exciting event at a press conference being planned for Tuesday, April 18 in Detroit. Additional press conference details will be announced.

Tickets for the live event go on sale Tuesday, April 18 and can be purchased through 313Presents.com, Ticketmaster.com and the XFINITY Box Office at Little Caesars Arena. The event is promoted by Salita Promotions and 313 Presents.

The only two-division undisputed champion in boxing history, Shields will continue to make history as she brings big-time boxing to the home of the Detroit Pistons and Detroit Red Wings. The Flint, Michigan-native first faced Gabriels in Shields' sixth pro fight back in 2018, with Gabriels putting Shields on the canvas in round one with a vicious right uppercut-left hook combination. It remains the only time Shields has ever been knocked down as a professional or amateur and although she recovered to win an exciting unanimous decision, she will look for an emphatic ending to their rivalry on June 3.

"The 'GWOAT' is bringing championship boxing back to Detroit!" said Shields. "After my historic victory over Savannah Marshall in the U.K., I wanted a true homecoming fight in the U.S. I'm really excited to headline the first fight ever at Little Caesars Arena. Hanna Gabriels knocked me down in round one in our first fight and I've wanted the rematch ever since to settle that score. She's a four-time world champ but she's fighting the GWOAT, who's a thirteen-time world champion and three-time undisputed champion. This is a big, important fight for me and will be another great fight for women's boxing. I'm ready to defend my titles and win in dramatic fashion in Detroit!"

"I know that Claressa is looking for the right adversary to put on a Fight of the Year-type fight that Taylor vs. Serrano was, so I've done my homework since our last encounter five years ago and I'm a much more improved and dangerous fighter now," said Gabriels. "Claressa and boxing fans can expect to see the best version of Hanna Gabriels come fight night. I knocked Claressa down in our first fight and I intend to do the same in our rematch. Only this time, she'll stay down."

"Claressa Shields is making history again by opening up professional boxing at the brand new world class Little Caesars Arena in the heart of Detroit," said Dmitriy Salita, President of Salita Promotions. "This is going to be a 'HERstoric' event in resurrecting the tradition of big-time championship events in Detroit, in an electric rematch against current light heavyweight and heavyweight world champion Hanna Gabriels. Tommy Hearns won his first world title at Joe Louis Arena in 1980 and now in 2023 Claressa will electrify fans watching the fight at the arena and live on DAZN in USA and Canada."

"As Detroit's premier live entertainment company, 313 Presents is excited to bring boxing to Little Caesars Arena in partnership with Salita Promotions," said Howard Handler, President of 313 Presents. "Detroit's boxing scene has a rich history that has produced and embraced numerous champions, from Joe Louis to Sugar Ray Robinson to Tommy Hearns to Hilmer Kenty and now Claressa Shields. June 3 will be a historic night for us and we're thrilled to provide an action-packed night of boxing back in Detroit."

"We are thrilled to have Claressa back on DAZN," said Joe Markowski, CEO North America DAZN. "This homecoming fight for Claressa is highly anticipated by DAZN subscribers in the US and Canada. We can't wait to have another massive women's fight on the platform after making history with Taylor vs. Serrano last year. Tune in live to DAZN June 3rd for this very special event."

A two-time Olympic gold medalist throughout her storied amateur career, the 28-year-old Shields (13-0, 2 KOs) avenged her only amateur defeat last October when she traveled to the U.K. to win the WBO Middleweight Title from Savannah Marshall via unanimous decision. Shields' last fight in her home state of Michigan came in March 2021 as she bested Marie Eve Dicaire to become undisputed super welterweight world champion, her second undisputed distinction after originally unifying all the middleweight titles with a 2019 victory over then unbeaten Christina Hammer.

Representing her native Alajuela, Costa Rica, and promoted by DiBella Entertainment, Gabriels (21-2-1, 12 KOs) first became a world champion at welterweight in 2009, before capturing the super welterweight championship in 2010. She would go on to unify 154-pound titles with a TKO over Katia Alvarino in 2016 and followed up her 2018 loss to Shields with two successful 154-pound title defenses in 2019. Most recently, Gabriels captured both the WBA Light Heavyweight and WBC Heavyweight world championships with a second-round stoppage of Martha Lara Gaytan in April 2021.