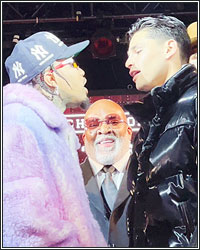 Yikes! I haven't had a sack this bloated and distended since I started doing this column. Gervonta Davis-Ryan Garcia sparked up a lot of interest and it showed in my inbox. So, let's skip the pithy/nasty intro and get right to it.

Tank-Ryan Revisited

In the case of Ryan Garcia he simply wasn't ready to be in the ring with Tank. I believe he got thrown into that situation by an impatient Oscar De La Hoya. Struggling for answers in a post-Canelo Golden Boy Promotions era.

I would've like to have seen Garcia take on two more opponents that were at least a level ahead of Javier Fortuna and Luke Campbell. The way Ryan Garcia approached the second round had novice written all over it. Even Rolly Romero took a better approach in the first half of the fight. Ryan won the first round, then thought he'd be able to apply his size advantage against Tank. Big Mistake!

I don't know if you seen the pre-fight press conference. Oscar blasted PBC for the hydration clause. Stating that they didn't have faith in Tank due to the catchweight and hydration clause.

It caught me by surprise because GBP are the ones who didn't have faith in their fighter! If they had any faith in Garcia, they would've had him get a belt or two at 140. Before negotiating to fight Tank. But the risk didn't match the reward. However, the reward of being unprepared to fight Tank clearly outweighed the risk.

In all fairness to Garcia, this talk about him quitting is pure bullshit! Anyone with half a boxing brain knows exactly where the liver is, it was clear that the front of Davis fist landed flush on Garcia's liver

Now on the flip side. Much respect to Tank! He did what he was supposed to do. He leverages his power in a way that Deontay Wilder could only dream of. His boxing IQ is levels above what people give him credit for.

After seeing enough rounds of Tank over the past three years. I'd put the house on Devin Haney out pointing him over 12 rounds. Tank is a prime beneficiary of overzealous novice fighters overcommitting themselves. Never has and never will Haney overcommit himself! Haney will pick Tank apart in an ultimate snoozefest! I like that fight next for Haney, but I don't see it happening, because Team Haney won't bow down to Tank Davis A-side boasting!

Tank will spend at least the next 18 months collecting huge paydays in front of hip hop induced crowds against novice overzealous fighters overcommiting themselves to the mini Mike Tyson.

– Nail Rahman

Hi Nail.

It's actually kind of reassuring that Tank is still being dismissed and derided a bit. It proves that the universe hasn't flipped inside out and that the natural order of things is still in place. Tank IS an elite-level talent whose body of work is a lot more solid than acknowledged by some. To hear some of the critics talk, he's been fighting nothing but parking lot attendants and beer vendors for his entire career. Does he have any elite-level scalps on his ledger? No. But neither do Devin Haney (at least until he beats Lomachenko) and Shakur Stevenson. Go through the extended pound-for-pound lists and you won't find too many of the very best with that many elite-level scalps either. It's just the sign of the times when it comes to matchmaking.

Garcia wasn't ready for a fight like this against an opponent like Davis. That was made very clear. Like I wrote in Monday's column, I still can't understand the reasoning behind so many people picking Ryan to beat Tank. Other than the outside chance of clipping Gervonta with a left hook out of the blue, he had zero chance of winning.

This fight sure had the feel of Golden Boy cashing-out on Garcia. They just had to know that the kid wasn't ready on any level for this fight. And they totally let themselves be out-negotiated during talks, something which tells me that they weren't really all that concerned about the repercussions for Ryan if he lost.

Tank's a counter-puncher and a damn good one. A bout with Haney would be a tough one-- strategically and physically-- but Tank is smart enough to adapt and make a go of it. Same deal with a Stevenson fight. Tank vs. Haney or Shakur is 50-50 IMO. The difference between Tank and Haney/Shakur is that Tank can hurt you with that one counter shot.

As for Ryan "quitting?" My thoughts are in the article I posted yesterday. The answer is yes he did...and so what? But, really, the word "quit" in boxing is a matter of semantics.

Tank-Ryan Revisited 2

Hi Paul,

Hope you are doing great!! The fight that I thought was not going to happen, did happen and it was a great event. Enjoyed it very much. No matter what, Ryan has to be commended for forcing this fight on Golden Boy, he didn't take no for an answer. They tried to sabotage it, demanding that DAZN be part of it, Showtime conceded a little and the fight is part of the history books. At the end of the day, this was a Showtime production, DAZN had very little participation. Even though Ryan had no excuses, expect to hear plenty from now on just to save face. He is still a good product to exploit, but had a long way to go to match Tank's skills and experience. Hopefully Tank can stay away from trouble, as he is very good for boxing. His boxing skills are very underappreciated, maybe not now. I expect him to fight the likes of Isaac Cruz, Subriel Matias, which are not bad fights, but we shouldn't hold our breath for fights against Haney or Stevenson to materialize until they are mega events in a couple of years from now. For those who are still criticizing the hefty PPV price, remember with Tank you get five or six fights for the same price, four inside the ring and one or two outside the ring, making those poor security guards work overtime. Just saying. Now looking forward to Spence vs Crawford and Taylor vs Lopez.

– Benjamin from PR.

Hey Benjamin.

My take on getting this fight done is a little different than yours. If your 3-year-old wants to eat cotton candy for dinner every night, do you let him? Ryan wanted this fight, yeah, but Golden Boy should've known that he wasn't ready and they should've been the adults in the room, insisting that the kid get some more seasoning before taking on a guy like Tank. My take? I think Golden Boy felt that Ryan was never going to be ready for a fight like this and wasn't all that sure he'd even be around too much longer, so they decided to get things done and cash-out before Ryan left them, flaked out, or got beat by someone else. If Ryan managed to score the upset, fine. If not, they got at least one major payout from the kid.

And, yeah, I wouldn't hold my breath on Tank vs. Haney or Shakur any time soon. There are many reasons for that and they're all general knowledge at this point.

By the way, I agree...Tank live audiences sure are fun.

Four Kings Revisited

Hi Paul,

As I watched the Tank/KingRy fight unfold this past Saturday night, I couldn't help but think about how premature the "Four King" hype that some of the media outlets forced on these young fighters. Fighters who are still trying to define their legacy, whatever that may be. I'm referring to Tank, Ryan, Teo and Haney. I'm not saying that they aren't good fighters, but at least a couple of them have quite a ways to go, or may not get there at all. That aside, Tank and Ryan dared to be great by putting it on the line Saturday night. And that's really all you can ask for, especially with all the politics in boxing.

With each fight, I've tried hard to convince myself that Tank is not the real deal. And maybe that comes from some of his antics outside boxing. But he keeps proving me wrong. The kid is special! In this fight I really paid close attention to how/where each fighter was placing their punches. And Tanks ring IQ is legit. At first I thought it was just media hype. Outside of his power, I think his counter punching is his strongest attribute. He throws with conviction, and he always seem to be in position when he throws.

In closing, I would say two of the four "new" kings, The Take Over and KingRy have some work to do. Let's see how Dream does with Loma next month. Tank is well on his way.

But for now Sugar Ray, Hit Man, Marvelous & Hands of Stones they're not.

Regards.

– Reggie Cannon

Hey Reggie.

The new Four Kings stuff was overblown, although I get the excitement. I'd like to see more actual fighting with each other-- or SOME actual fighting with each other-- before letting the hype wash over me. Plus, the fifth "king," Shakur Stevenson, may be better than all of them.

David Morrell and More

Greetings Paul!

After the great win by David Morrell on Saturday, he called out David Benavidez.

Is this the next fight?I thought Benavidez has already fought enough interim fights and is now next in line to Canelo. But Morrell is the champion, too. How does this play out?

I still say Boo Boo Andrade takes them all. Boring, poor marketing, whatever. He is still undefeated and has never been touched.

Also, while I got your time, any word on Spence? And I missed the big announcement from the Garcia vs Davis fight stating who the next big fight is supposed to be. Did you catch it?

Thanks.

-- B.C

Hey B.C.

Morrell is for real and I've been saying that from day one. I think, right now, he has a legit chance of beating anyone in the division-- and that includes Benavidez and Canelo. There was never anything concrete regarding Benavidez-Canelo being next, just the implication that it SHOULD be happening next. Canelo has the Ryder fight on May 6 and a likely rematch with Bivol in September. Realistically, the soonest he could even fight Benavidez is May of next year. Would Benavidez want to sit out nearly 14 months waiting on a Canelo fight that is not at all guaranteed to happen, anyway? Canelo could get beat or injured. He might just decide that he doesn't want Benavidez as an opponent. So, maybe it would be in his best interest to look for big fights elsewhere. Morrell makes sense since they both fight under the PBC banner, but it's a huge risk.

Maybe Boo Boo manages to squeeze in and fight Benavidez or Morrell. But, the Boo Boo door swings both ways. He's lamented those unwilling to take the risk of fighting him, but he's also shown himself to be risk-averse in his matchmaking.

And, no, contrary to the tale reported by the dingleberries at RingTV/Ring Magazine, there was no big announcement during the Tank-Garcia card.

Re-doing Ryan, More on Morrell

Hi Paul

Usually I like discussing immediate weekend fights, but there is nothing meaningful about the matchmaking Golden Boy is doing about William Zepeda. What we can discuss is your take on all the drama that happened about them not being with their fighter at the post fight conference, the more time passes it seems ODLH is becoming an annoying individual. He dares talking about a team not believing in their fighter prior the fighter, but then he does this. I don't believe he was threatened BTW.

Looking into more interesting topics, I keep being impressed about Morrell, the guy is taking the Cuban boxing to excellence, because there is technique, power and speed on what he does. I think he can take Benavidez outta the equation but it's a risky gamble, because if you beat the boogeyman then you become the boogeyman, what do you think?

Lastly, It seems Ryan is a fighter who will never care about the mistakes he makes inside the ring (you pointed those in your column). Seeing these deficiencies, I believe he would benefit on going to the Kronk to learn how to nullify exchanges and short distance attacks. I don't believe there is anything Joe Goossen can teach him, but I guess its more about him than all the trainers he can hire.

Best Regards.

-- Miguel

Hey Miguel.

I'll have more on the ODH/B-Hop disappearing act in this coming Monday's Notes from the Boxing Underground. But, needless to say, that shit didn't look good and the backtracking/excuse making made things look even worse.

I get the feeling that people are already putting Morrell's number on "block." I don't see Canelo fighting him in a million years and I don't think Benavidez will be all that eager, either.

You hit the nail on the head when it comes to Ryan. The trainer won't matter, this is all him. I don't see him humbling himself to be trained properly and, to be honest, I don't think he's even aware of what he needs to do to fix his game. He's got his mind in one place and I'm sure there are plenty of yes men and enablers around him who will twist themselves into pretzels to confirm his greatness "as is," even now.

Got a question (or hate mail) for Magno's Bulging Mail Sack? The best of the best gets included in the weekly mailbag segment right here at FightHype. Send your stuff here: paulmagno@theboxingtribune.com.