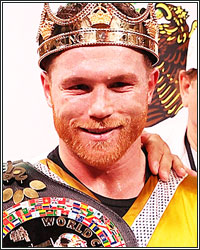 According to novelty betting lines, aliens making contact with humans at a mass public event is a +900 bet. These are similar odds to what sportsbooks are giving John Ryder in his bid to upset Saul "Canelo" Alvarez this Saturday in Guadalajara, Mexico.

But Canelo fighting a massive underdog is not the entire reason for Alvarez-Ryder being totally devoid of buzz and intrigue.

Cutting right to the chase, this is a vanity fight for Alvarez that means absolutely nothing to anyone other than Alvarez, a pocket of Mexican fans, and team Ryder (oh yeah, and promoter Eddie Hearn, who gets to cash in from another one of his Matchroom Boxing fighters being offered up to Canelo as chum).

Fighting in his hometown of Guadalajara and in Mexico for the first time since 2011, this Cinco de Mayo weekend fight was booked as a homecoming victory lap for a conquering Mexican hero. There will be Mexican flags and love and hero worship. Alvarez will bask in the adulation, feigning humility as he looks out over a mass of fandom at Estadio Akron, looks to God, looks at the green, white, and red everywhere and, with watery eyes, self-affirms his Mexican legend status.

This fight is little more than a multi-million dollar ego boost for a fighter whose popularity and ability to execute in the ring appear to have plateaued. It's an "I'm still great" pick-me-up gifted to a fighter who's had, perhaps, the roughest year of his career after, perhaps, the best year of his career.

Last Cinco de Mayo weekend, Alvarez was outclassed and beaten decisively by Dmitry Bivol in a bid for Bivol's WBA light heavyweight title. In September, Alvarez buzzkilled Mexican Independence Day weekend with a surprisingly tepid unanimous decision victory in his third bout with Gennadiy Golovkin-- a bout many thought would see him steamroll a post-prime, fading Golovkin.

Facilitating Canelo's upcoming vanity fight is streaming service DAZN, a company desperate for a taste of mainstream success and, ironically, the company that has also done the most to remove Alvarez from the mainstream. In classic DAZN form, the wannabe Netflix of sports has signed on for this go-nowhere fight against the tough, but modestly talented Ryder-- a fight that, aside from the immediate ego boost for Alvarez, can only serve as a lose-lose for the Canelo brand's big-picture future.

After a torrid and impressive four-win/eleven-month stretch (from December 2020 to November 2021) that saw him unify all four super middleweight belts and make quick work of a mandatory challenger, Alvarez would hit a wall in 2022 with Bivol and Golovkin.

Maybe even worse than a loss and a lackluster win was the fact that neither bout was a true Canelo-level blockbuster. The Bivol and Golovkin fights generated around 520k and 550k pay-per-view buys, respectively. These were comparatively low numbers for the Mexican star and down from the 800k buys generated by his bout with Caleb Plant in November of 2021, the only non-DAZN event he's headlined since 2018 when his second fight with Gennadiy Golovkin delivered 1.1 million buys via HBO PPV.

It's probably not a coincidence that the falling buy rates coincide with his continued DAZN dealings.

In 2018 DAZN had signed Alvarez to a multi-fight deal worth upwards of $365 million. Two years later, however, Alvarez filed a civil lawsuit against then-promoter Golden Boy and DAZN for failure to deliver on the terms of the contract. The lawsuit would be settled out of court, with Alvarez granted promotional free agency and freedom from his DAZN deal.

Since the termination of the contract, Alvarez has continued to work with DAZN and promoter Eddie Hearn on a fight-by-fight basis, with the one detour being in November of 2021 when he headlined a Premier Boxing Champions pay-per-view event with then-IBF super middleweight champ Plant in a unification bout.

DAZN's inability to reach the hearts and minds of mainstream sports fans in the US (or even the hearts and minds of US boxing fans) has trickled down to all of their boxing efforts, even, apparently, those of top dog Canelo. The numbers tell the tale and the lack of buzz for this upcoming fight screams the reality. Their reported troubles in delivering the Gervonta Davis-Ryan Garcia co-promoted pay-per-view event to viewers is now the stuff of social media legend, with fans screaming about being unable to access the event and some complaining about being charged multiple times for the show they couldn't access. The streaming service's response to the Davis-Garcia troubles has been slow and insufficient. In some cases, free access to the Canelo-Ryder pay-per-view has been given as a consolation to fans irate about missing out on Davis-Garcia.

Broadcaster aside, though, this is the worst possible time in Canelo's career for him to engage in self-indulgence of this sort. Following two poor showings and with a new crop of young contenders on the rise, fighting a guy like John Ryder, now, looks like the one-time pound-for-pound king and current unified super middleweight champ is playing prevent defense with his career. Even coming off hand surgery and with a certain amount of earned credibility credit in his career account, this is not the kind of fight to be made at the moment, especially from Alvarez, whose burning desire to win looks to have been reduced to a low flame and who now talks about golf in his interviews as much as boxing.

The UK's Ryder is good, solid, and deserving of a title shot. It just doesn't make much sense for Alvarez to be fighting him now, with the boxing public's interest kinda, sorta waning when it comes to all things Canelo. That is, unless Canelo's interest in boxing is kinda, sorta waning as well and satisfying his ego is the plan from this point forward.

Bottom line, nobody, other than true die-hard Canelo fans and Mexicans burning to get an in-person glimpse of their guy in Guadalajara, is buying into this upcoming fight as anything other than Canelo fighting because Canelo always fights on Cinco de Mayo weekend.

If aliens just happen to touch down at Estadio Akron this Saturday, though, and Ryder finds a way to shock the world, some lucky underdog-minded bettor could become very rich. That counts as intrigue, right?