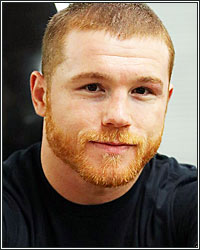 This Thursday, like every Thursday, I ask you to pull up a seat alongside my bulging, bulbous sack and watch me shoot a load of gooey, salty truth right into the faces of boxing's purveyors of ignorance. This week, we have questions/comments regarding Canelo-Ryder, Eubank-Smith 2, and whether Shakur Stevenson is overrated.

Eubank-Smith 2: Post-Cheat Return?

Hello Paul.

Hope all is well.

So this past week kicked off the press conference for the Eubank vs Smith rematch. What do you take of that whole situation?

Eubank got hit with an illegal elbow and lost the first fight. But Smith was given the win. It was obvious something was wrong especially with the way his eye swelled up. Why didn't his corner say something? Why didn't they review the tape? If they found he was hit illegally why does he still have a loss on his record? They think rematch is justice?

Eubank said he knew Smith was a dirty fighter. Does that mean Smith has done this before? Why is he allowed to get away with it? Is this why he keeps doing it?

Sounds like a Tyson Fury glove tampering story.

Rematches don't solve this.

-- Brian C.

Hey Brian.

Watching the replay, it's clear that Smith hit Eubank with an elbow. I don't believe it was an intentional foul, and there's no way to prove whether it was intentional or not. There's also no way to prove if the elbow was what buzzed Eubank or not (although, I believe it was).

That's why it would've been hard to make the fight a no decision or otherwise take the victory from Smith. There was also no replay rule in play for that fight, so there was no way to pull back and reassess the outcome.

In this case, the best option is to do it all over again. I think, this time, Eubank wins because he's just the all-around better, more versatile fighter.

Too Much Love for Shakur?

I can't believe the amount of love for Shakur from you and others, particularly when it comes to a potential match with Tank. I read your last mailbag where you insinuated the "fifth king" may be better than all of them and I'm curious what you based this on? If fans have the nerve to question Tank's resume, I think Shakur's needs to be under intense, microscopic scrutiny even more.

He has ZERO power for Tank to respect, at least Ryan had that. I think Tank beats Haney too in a more tactical affair, but Stevenson?? He's either knocking him out cold, making him quit or forcing the ref to stop it. Guaranteed.

Thanks

-- Rell

Hey Rell.

Shakur Stevenson passes the eye test on so many levels and, since he made the decision to take more risks and let his hands go more, his main stage profile has risen even higher. I know that the eye test is not the be-all, end-all when it comes to assessing a fighter's elite-level chops. That's why I said he "may" be the best of the lightweight bunch. His resume is growing and, as greats generally do, his performances are getting better as his level of opposition gets better. At 25, he's more advanced, skill-wise and in the area of consistency, than any of his same-age contemporaries.

I don't know a single knowledgeable boxing person-- trainers, fighters, media, hardcore/longtime fans-- who doesn't sing the praises of Shakur Stevenson as a "for real" elite-level talent. Would he beat Tank/Devin/Lomachenko? Maybe. Maybe not. At the elite level, nothing is a gimme. I don't think he needs crushing, one-punch power to be the best of the lot, though. Smart movement, good footwork, and high-end timing, alone, can turn ferocious power punchers into tentative messes and quality boxers into hug-and-mug spoilers. We'll see where Shakur's career advances from here, but I'm as sure of his abilities as I am of anything in boxing.

Canelo-Ryder

Hi Paul.

Canelo vs. John Ryder is coming up this Saturday, not that anyone is talking about it. Who wins and how will Canelo stop Ryder?

– Simon

Hey Simon.

Unless something truly crazy happens, Alvarez should bludgeon Ryder and stop him somewhere between rounds 7 and 9. I posted an article regarding Canelo-Ryder indifference on Wednesday and I go into more detail there. But, needless to say, this bout screams "waste of time."

Got a question (or hate mail) for Magno's Bulging Mail Sack? The best of the best gets included in the weekly mailbag segment right here at FightHype. Send your stuff here: paulmagno@theboxingtribune.com.