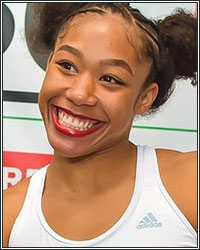 Alycia Baumgardner will defend her undisputed World Super-Featherweight title against Christina Linardatou at The Masonic Temple Detroit in Detroit, Michigan on Saturday July 15, live worldwide on DAZN – as bitter rivals Richardson Hitchins and Montana Love clash, and Cuban amateur sensation Andy Cruz makes his pro debut.

Baumgardner (14-1 7 KOs) puts all the belts at 130lbs on the line for the second time after a dominant performance over Elhem Mekhaled in New York in February, a first defense in the Big Apple coming after a massive win to claim all the belts in London against fierce rival Mikaela Mayer in October. The big nights just keep coming for 'The Bomb' and now it's home time as she fights in Detroit for the first time in the paid ranks – and has a score to settle against Linardatou, who handed Baumgardner her sole defeat in July 2018.

Linardatou (14-2 6 KOs) is aiming to become a three-time World ruler and break Baumgardner's heart once again, five years after a split decision win over eight rounds in Louisville. That win for the Greek preceded her claiming her first World title at Super-Lightweight against Kandi Wyatt in March 2019, having previously challenged Delfine Persoon for the World Lightweight title in June 2016. The 35 year old defended the crown against Deanha Hobbs in June 2019 in Athens, before Katie Taylor took the title in Manchester, England in November 2019. Linardatou reclaimed the vacant title three months later against Prisca Vicot in Indiana and returned to action in July with a six round win in Greece.

"It was a blessing to be able to fight overseas in front of an international audience to unify titles; and then to finally become undisputed in my home country at MSG, was so amazing!" said Baumgardner. "But to come back home to the Midwest, where I grew up, where I learned how to work, where my life was shaped, where my faith was forged, and then to headline in my adopted home of Detroit for my first undisputed title defense; I am truly realizing a dream come true.

"In one of the world's most storied cities for boxing, I get to put on show and show out in front of the people who've supported me and know me best. I get to thank the region that helped make me who I am. I get to show the world that a little girl from Fremont, came back home as the Undisputed Champion of the World, and let all those other midwestern little girls like me know that they can reach any dream they can imagine."

"I think it's going to be a great fight with me and Alycia," said Linardatou. "It's going to be much better than the first one. She has shown signs of improvement, but I have a new purpose to fight for – my son.

"And as much as she improved with her skills, her ego and head has grown with it. She does a lot of things for social media and to get attention. I'm doing this for the legacy of my son. See you July 15, chump – I mean champ."

A stacked undercard in support of Baumgardner's homecoming sees fireworks guaranteed as bitter rivals Richardson Hitchins and Montana Love clash for Hitchin's IBF North American and USWBC Super-Lightweight titles.

Hitchins (16-0 7 KOs) is rising up the rankings at 140lbs and boxes for the third time in eight months since joining forces with Eddie Hearn and Matchroom. The Brooklyn man was punch-perfect in his last outing, dominating John Bauza over ten rounds in New York in February, following a eighth round stoppage win over Yomar Alamo in Cleveland in November.

Love (18-1-1 9 KOs) headlined on that night in his Cleveland hometown against Steve Spark in a fight that ended in controversial circumstances, as a tangle on the rope appeared to end in Love lifting Spark over the ropes, leading to a disqualification. Love now seeks to get back into contention to meet the contenders and champions at 140lbs, and while no greater incentive is needed, Hitchins and Love clashed at the press conference in Cleveland and there's no love lost between the pair leading up to this high-stakes battle.

"It's done – finally," said Hitchins. "This is the fight I have been wanting since I signed with Matchroom and finally we've got him.

"To say there is bad blood between us is an understatement. This is personal for me. I genuinely cannot stand the guy and come July 15; he's going to feel all that anger come out. This is my time. This is going to be a showcase performance for me and put me in line for a World title.

"He isn't on my level. He doesn't belong in the ring with me. I'm giving him this opportunity for no other reason than that I want to smash him to pieces."

"I'm gonna give you this ass whoopin' you been asking for," said Love. "This is just the fight I need to get back into the mix, and when I deal with him, I'll be back on track for World titles."

Fresh from signing a promotional deal with Hearn and Matchroom, Cuban amateur sensation Andy Cruz will make his pro debut on the bill over ten rounds at Lightweight against Juan Carlos Burgos.

Cruz struck gold at the 2020 Olympic Games in Tokyo in the Lightweight division against Keyshawn Davis in the delayed games in August 2021 and added an incredible third straight AIBA World Championship gold at Light-Welterweight in Serbia three months later, putting that medal next to those he landed at the World Championships in Germany and Russia in 2017 and 2019.

The 27 year old is wasting no time in getting into the groove in the paid ranks, and does so against the experienced Burgos (35-7-3 21 KOs) who took Davis the eight round distance in his last outing in December and drew over ten rounds with highly ranked Lightweight Angel Fierro last March.

"I'm pumped and ready," said Cruz. "Everything I wanted is about to become a reality. Now, it is time for me to show the world what I am made of. I want to give my fans the best of me, and I'm ready to do in pro boxing the same I did in the amateurs, be the best in the World!"

"What a night this is going to be – and I am so thrilled for Alycia," said Hearn. "It's poetic that we have announced this card just before Katie Taylor finally gets her homecoming in Dublin tonight, as great champions deserve to fight in front of their hometown fans and that's exactly what Alycia gets on July 15 – with the added spice of being able to right the only loss on her record, I've no doubt 'The Bomb' is going to produce something special in Detroit.

"To say Richardson and Montana do not like each other is an understatement, and they finally get the chance to get their hands on each other in the ring. The build-up will be ferocious, and will come to the boil on fight night, but cool heads will be needed when they step through the ropes as this is a vital clash in the 140lbs division.

"And last but by no means least, welcome to the paid ranks, Andy Cruz. Fans who get their hands on a ticket for this brilliant night of action will witness the first steps of a fighter I believe will win World titles at multiple weights and walk into the hall of fame – but every journey starts with a single step, and Juan Carlos is a tough Mexican that's never been stopped and has mixed in great company, it's a great test on what will be the first of many epic nights for Andy in the pro game."

An announcement on ticket on-sale dates will be made soon.