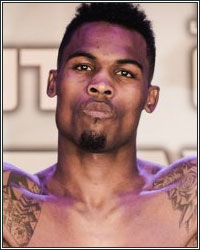 Welcome to another edition of Magno's Bulging Mail Sack, a Thursday tradition here at Fight Hype that routinely rattles cages, rocks boats, and way too often hurts tough guys' feelings. This week, we have comments/questions regarding Fury-Ngannou and the futures of Jermell Charlo and Tim Tszyu.

Fury-Ngannou

Hi Paul.

So...Tyson Fury vs. Francis Ngannou? Is this some sort of weird dream? Let's hear your take on this monstrosity and please do not hold back.

– Sam B.

Hey Sam.

I can't say I was all that surprised by the Fury-Ngannou announcement. For me, making that fight was always a matter of Fury believing he could get away with it. Obviously, he CAN. I blame that on the fans who have enabled Fury and have allowed him to get away with a lot of shit other fighters would not have been able to get away with, such as the failed doping test, multiple retirements, and the whole circus he's created every time he's expected to fight. I especially blame the "purists" who've bent over backwards to embrace him and have given him non-stop virtual tossed salads for years. Of course, the guy is going to feel entitled to do whatever the hell he wants. This must feel like a firecracker up the dick hole to those "purists."

I honestly wouldn't have any problem with Fury taking a silly money fight like this, if it wasn't happening after that Derek Chisora money grab and INSTEAD of fights with Usyk and Joshua. This is not like Mayweather-McGregor, where Mayweather was already retired. Fury is smack dab in the middle of his title reign and this fight will hold "real" fights up. Yeah, yeah...according to the WBC and the Fury die-hards, he "tried" to make fights with Usyk, Joshua, and even Andy Ruiz. Well, he obviously didn't try hard enough-- most likely because this Ngannou silliness was always on the back burner.

I'm not a fan of ANY fight being funded by Saudi blood money, but there's nothing I can do to stop fighters from wanting those big payouts. Like it or not, this fight will do huge business and draw a lot of attention. I don't want to see people do their sanctimonious "I won't be watching" play-acting. Of course, everybody will be watching. And, yeah, I'll be writing about it. But it's not good.

Tszyu Moving Forward and the Jermell Win-Win

Hey Paul.

Hope all is well.

Now that Jermell Charlo is set to battle Canelo, what direction do you see Tim Tszyu taking? Tim is not one to sit idle. I haven't seen anything in the media regarding his plan. I just started really paying close attention to him a year ago. I actually like the guy. I like the fact that he keeps busy, and with solid competition. And he is not lacking in the confidence department. I can only imagine how difficult it is to follow in his father's (Kostya) footstep.

Brian Castano would be a good test. Maybe even Erickson Lubin or Fundora. I really don't see him moving up just yet. If Charlo relinquishes the belts he may stick around to try and unify. However Jermell is in a win-win situation. If he loses to Canelo he'll get a pass for moving up two weight classes to challenge him. Or he could move back down to defend his belts. If he wins, he is undisputed in two weight classes, all while receiving the biggest payday of his career.

From a management standpoint, I think this was always a part of Al Haymon's plan for the Charlo twins and Errol Spence. Meaning, always having them move up while never competing in the same weight class.

Just wanted to know what you think.

Regards,

– Reggie Cannon

Hey Reggie.

I guess a lot will depend on what the sanctioning bodies decide to do. They haven't said anything yet about stripping Jermell for moving up to fight Canelo, so he may have the option to move back down and defend his belts no matter what happens on September 30. My guess is that, should he lose to Canelo, Charlo may try to make his way back to 154. History shows us, though, that moving down to revisit a championship run doesn't usually work out well.

As for Tszyu, he's in a good spot. He has the interim WBO 154 lb. title, star power in his native Australia, and a growing profile on the world stage. He's going to make a shit-ton of money and have leverage over anyone he chooses to fight, other than Jermell. If Charlo doesn't come back down, he'll start the long chase of re-unifying those titles. Castano would be a good test, as would Lubin and Fundora. There'll be a lot for Tszyu to do if Charlo stays at the higher weight. As long as he keeps his focus, he's got a good, lengthy career ahead of him.

Got a question (or hate mail) for Magno's Bulging Mail Sack? The best of the best gets included in the weekly mailbag segment right here at FightHype. Send your stuff here: paulmagno@theboxingtribune.com.