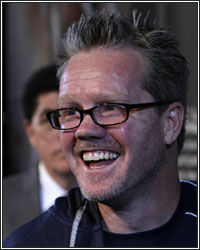 "March 13 is too fast a turnaround. Manny has a broken eardrum. I'd like to have more time," stated Freddie Roach, legendary trainer of Manny Pacquiao, as he recently commented on negotiations for a clash with Floyd Mayweather. Arum is currently in the Philippines where he plans on meeting with the Filipino superstar to discuss terms for the potential showdown. Although Roach is reluctant for his star pupil to face the undefeated multi-division champion in March, Arum insists that the fight must take place sooner rather than later to prevent Mayweather from moving forward with other plans.

"It has to be March 13 because of this crazy congressional thing," Arum would tell Ronnie Nathanielsz of PhilBoxing.com. "We have everything in place to get it done but we've got to start now. There is no reason why Pacquiao wouldn't do the fight. He trains in the months of January and February and we are not doing a tour and doing only one press conference in New York at Madison Square Garden...If he let's Mayweather off the hook now by not agreeing to the March 13 date because of politics here in this country, then we are never going to get him [Mayweather] in the ring. We will give him the excuse to say 'yeah I'll fight anybody, but look at this Pacquiao.'"

While Arum is optimistic that his number one client will agree to the terms of the fight, Roach doesn't seem quite as confident. ""Manny believes he should get a 60-40 [purse] split too, because he did better in pay-per-view than Mayweather this year. Manny's the bigger draw," Roach would tell Lance Pugmire of the Los Angeles Times. "I hope the fight happens, yes, but I want us to be in the best possible shape," he continued, reiterating has belief that Pacquiao should be 100% prepared for his toughest challenge.
[ Follow Ben Thompson on Twitter @fighthype ]