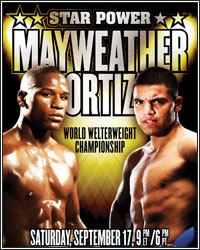 After being deducted a point for a blatant headbutt, Victor Ortiz was brutally knocked out in the fourth round by Floyd Mayweather when he left his guard down, failing to protect himself at all times, after referee Joe Cortez instructed both fighters to fight. Instead of resuming the action, Ortiz touched gloves with Mayweather and attempted to hug him, at which point he was met with a left hook followed by a right hand that put him down for the count.

Despite the fact that he had just been knocked out and lost his title, Ortiz was all smiles and giggles during the post-fight press conference. When asked if he thought Floyd won fair and square, however, Ortiz replied, "No! I don't think so, because I paid for my mistake, you know? They took one point away and they didn't, they just, they called that the break and they just put out, man. So, at the end of the day, everybody has their opinion, but in my opinion, it wasn't a fair fight."

Insisting that he was unfairly fouled, Ortiz is of the opinion that the viewing public deserves a rematch. "I was looking at Joe. He said, 'Break,' or something, so I was like, 'Huh?' 'And then, boom, ow, okay, I guess it's time for bed. You know, whatever. Bottom line, I had fun," Ortiz explained. "I'm sure he [Mayweather] likes the money that came with it," he added. "Money isn't anything to me, man. That's secondary. They paid me like chump change for this fight. I don't mind it and the public loves it. And I think the public deserves a rematch, honestly."
[ Follow Ben Thompson on Twitter @fighthype ]