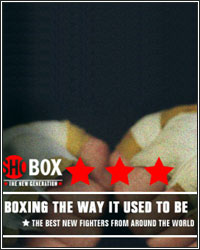 In the first of three consecutive ShoBox: The New Generation telecasts that will feature promising heavyweight prospects, hard-hitting, undefeated Travis Walker will defend his International Boxing Association Continental Americas (IBA) heavyweight title against former national amateur champion T.J. Wilson on Friday, Oct. 19, 2007, (live on SHOWTIME at 11 p.m. ET/PT delayed on the west coast).

Also coming up on ShoBox, IBF No. 10 heavyweight contender "Fast" Eddie Chambers will face International Boxing Federation (IBF) No. 3 contender Calvin Brock in a 12-round IBF heavyweight title elimination bout on Nov. 2, 2007, in Tacoma, Wash. Additionally, on Nov. 16, 2007, in a special ShoBox event airing live from the beautiful Eastern Caribbean Island of St. Lucia, (World Boxing Council) WBC No. 7 contender Cristobal Arreola will face dangerous undefeated challenger Teke Oruh in a 10-round heavyweight fight for the WBC Continental Americas title.

The Oct. 19th ShoBox telecast will originate from Raley Field in Sacramento, Calif., and will co-feature knockout artist Patrick Lopez against Jesus "Chuy" Rodriguez in an eight-round junior welterweight bout. Duva Boxing in association with Goossen Tutor Promotions will promote the event.

After two easy wins against outclassed opponents, Walker hopes to secure a convincing victory over the dangerous Wilson and elevate his status in the heavyweight division. Nicknamed "The Freight Train" for his ability to plow over opponents with devastating power in both hands, Walker will fight for the third time on the critically acclaimed ShoBox series in less than one year.

"We continue to showcase the best and brightest heavyweight prospects in America," said ShoBox Executive Producer Gordon Hall. "Through their match-ups on ShoBox, Eddie Chambers and Chris Arreola have turned from prospects into world-ranked contenders. Walker, with an impressive performance against Wilson, can do the same."

"This is my third time fighting on SHOWTIME," said the six-foot-four-inch Walker. "ShoBox has given me the opportunity to show that I am the No. 1 heavyweight prospect in America. I plan to prove that on Oct. 19."

Walker, who has fought mostly right-handed fighters, is not worried about taking on a dangerous southpaw in Wilson.

"As long as I pressure Wilson, he will fold," Walker said. "Fighting a lefty does not bother me. It is a little different because I fight orthodox so much. I feel like Wilson will be a little easier to fight. I can hook him with each side. Lefties are always there for my right hand, and that's where my power is.

"It's not good for a lefty to fight me."

Walker (25-0-1, 19 KOs), of Houston, Texas, by way of Tallahassee, Fla., had only 32 amateur fights, but has made up for lost time since turning pro in July 2004. Despite being brought along slowly, he fought eight times in 2006 and sparred against IBF Heavyweight Champion Wladimir Klitschko.

"I am the new look at heavyweight, and I am going to show that on Oct. 19," Walker said. "Anyone that has been watching my career since I turned pro knows that I have advanced a lot in a short amount of time."

Walker has spent the last two years dealing blows to heavyweight prospects with promising careers. After this fight against Wilson, Walker says he wants to take on the world's best fighters.

"I want to establish myself as the premier American heavyweight," Walker said. "I hope this will be my last fight against a fellow prospect."

In his last ShoBox appearance on April 6, 2007, Walker captured the vacant IBA heavyweight crown with a 10-round split decision over previously unbeaten prospect George Garcia at Target Center in Minneapolis, Minn. With the victory, Walker avenged a 2004 defeat at the Olympic Trials and became the first heavyweight from Tallahassee to win a pro heavyweight title.

Walker blames the 10-round split decision over the five-foot-10-inch Garcia on a size mismatch.

"I had to change up to fight a little guy like Garcia," Walker said. "I really just wanted to avenge my loss to him in the amateurs.

"Now, I'm going to fight somebody bigger than me, and boxing fans will see my real style. I really love fighting a big guy like Wilson because it's better to fight big guys."

Since the close victory over Garcia, Walker has defeated his last two opponents, Douglas Robertson and Cornelius Ellis, via technical knockout.

Walker has made a name for himself by defeating heavyweight prospects who were at one time some of the best amateur fighters in the country. "The Freight Train" has derailed the rising careers of three-time National Amateur champion and Olympian Jason Estrada in November 2006, and Garcia, who was No. 2 in the amateurs.

Now, Walker will face another decorated amateur and highly regarded pro prospect in Wilson. The former two-time National Amateur champion and two-time National Olympic alternate was the 2000 Boxing USA National champion at super heavyweight and was an Olympic alternate in 1996 and '00.

Wilson (11-1, seven KOs), of Atlanta, Ga., owns impressive amateur wins over Calvin Brock and Dominick Guinn. Currently training in Miami, Wilson returned from Germany in mid September after he helped Oliver McCall and Nicolay Valeuv train for upcoming bouts.

Even though he describes himself as a boxer and a puncher, Wilson intends to take it to Walker when the pair square off on ShoBox.

"I am going to dispense 10 rounds of pressure and pain," Wilson said. "You know I'm coming."

The southpaw has learned his lesson from the sole blemish on his record, a third-round knockout loss to Willie Chapman on April 12, 2003.

"I should have handled Chapman very easily," Wilson said. "But I took my eye off the ball and suffered the consequences because of it. I was in absolute control of every second. I didn't get touched until I got touched. I have never dropped my hands and walked in on anybody.

"As an amateur, I took better shots from better fighters. I'll never make that mistake again. But you get a little cocky, you get a little full of yourself, and sometimes you have to learn a hard lesson."

The confident Wilson warns Walker's team not to take him lightly.

"If they think they have an easy win, they have another thing coming," Wilson said. "Walker better be ready because I am going to bring my best. I am going to win."

Lopez (11-1, nine KOs), of Londonderry, N.H., by way of Estado Cojedes, Venezuela, is a talented prospect who appears to have knockout on his mind with every punch he fires.

The two-time Olympic representative for Venezuela (2000 at 132 pounds, and '04 at 139) won the gold medal at the '03 Pan American Games after defeating World Boxing Organization/North American Boxing Organization (WBO/NABO) light heavyweight titlist Lamont Peterson in the quarterfinals.

In his last fight, Lopez took a significant step up and dropped a close 10-round decision to former world title challenger and fellow Venezuelan Fernando Angulo.

In addition to a wealth of amateur experience, Lopez also has trained with the likes of Miguel Cotto, Kendall Holt and Erik Morales.

Rodriguez (16-2, five KOs), of Salinas, Calif., is a powerful boxer puncher who has defeated eight consecutive opponents. Currently training with Shane Mosley in Big Bear, Calif., Rodriguez is learning from one of the best in the business.

"It's a big plus because Mosley tells me what I need to work on after we spar," Rodriguez said.

Rodriguez, who won the vacant California junior welterweight title with a 10-round unanimous decision over Hector Alatorre on July 14, hopes his preparation and training pay off.

"I am an exciting, in your face fighter but I try to play smart, too," Rodriguez said.

Play-by-play announcer Nick Charles and expert analyst and boxing historian Steve Farhood will call the action from ringside. The executive producer of ShoBox is Gordon Hall with Richard Gaughan producing and Rick Phillips directing.

For information on SHOWTIME Sports Programming, including exclusive video, photos and news links on SHOWTIME CHAMPIONSHIP BOXING and EliteXC mixed martial arts telecasts, please go www.SHO.com/sports.