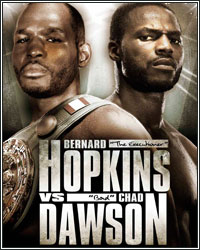 "Thank u Cali Comm!!! NO CONTEST!!! IM BACK," stated future Hall of Famer Bernard "The Executioner" Hopkins, who moments ago revealed on his official Twitter page that the California State Athletic Commission ruled in his favor to have his 2nd round TKO loss to Chad Dawson changed to a No Contest. The October 15 bout ended in controversy when Hopkins was thrown to the canvas by Dawson, injuring his shoulder in the process. Because referee Pat Russell did not rule that Dawson had committed a foul, he was declared the winner by TKO as Hopkins was unable to continue.

Immediately after the fight, Hopkins and Golden Boy Promotions filed an appeal with the California State Athletic Commission. Although that hearing did not take place until today, Hopkins was already given his title back when the WBC declared the fight to be a technical draw after reviewing the evidence themselves. Today's ruling by the California State Athletic Commission will officially erase the blemish on his record.

Check out the official press release below:

The holidays came early today for Bernard "The Executioner" Hopkins when the California State Athletic Commission (CSAC) overturned the decision that dealt the oldest champion in boxing history a controversial technical knockout loss to "Bad" Chad Dawson on October 15 at STAPLES Center in Los Angeles. The outcome of the hearing, which took place at the CSAC's regularly scheduled meeting, changed the TKO loss to a no decision on Hopkins' record, leaving no doubt that he is still the light heavyweight world champion.

"Justice was served today," Hopkins said. "I am thrilled that the California State Athletic Commission did the right thing and removed that loss from my record. Mistakes happen, but what you do to fix those mistakes is what counts.

"The footage of the fight that was reviewed over and over again, proved to be the key testimony," Hopkins continued. "I think it came down to the tape. Both of our sides were making good points, but it was a dinner without a turkey. The tape was the turkey. I am happy this ordeal is over. Now I can focus on continuing to rehab my shoulder and get ready to fight again, hopefully early next year. I will start my usual boxing routine in a couple of weeks and get ready to defend my titles again."
[ Follow Ben Thompson on Twitter @fighthype ]