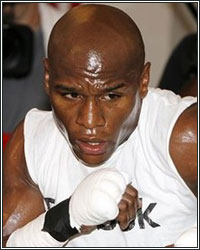 Sources close to the information have informed us that WBA jr. middleweight champion Miguel Cotto has agreed to face undefeated pound-for-pound and WBC welterweight champion Floyd Mayweather on May 5 at the MGM Grand Garden Arena in Las Vegas, Nevada. Many were under the assumption that because the fight was taking place on Cinco de Mayo, Mayweather would look to finalize a deal with a Mexican opponent. WBC jr. middleweight champion Saul "Canelo" Alvarez was rumored to be the leading candidate to land the assignment, but evidently, those reports may have been extremely premature. Mayweather confirmed that Cotto was his next opponent moments ago during his hearing to get his boxing license reinstated.

The bout will take place at the jr. middleweight limit of 154 pounds for Cotto's WBA title. It was contingent on Mayweather being granted a boxing license by the Nevada State Athletic Commission, which he was at the conclusion of the hearing. Cotto became a promotional free agent at the beginning of the year when his contract with Top Rank ran out. It's a fight that Cotto has wanted for quite some time, ever since the two shared time training at the Top Rank Gym when they were both still being promoted by Bob Arum.

In June of 2005, shortly after Floyd Mayweather's 6th round stoppage of Arturo Gatti, it looked as if both fighters were on a collision course, but it was promoter Bob Arum who felt as though the fight wasn't quite big enough to make, stating, "I think it's too soon...Obviously in a year from now, whether it's at 147 or 140, that will be the Leonard-Duran fight of our generation. But it's not ready yet, we've got to build Cotto up more." With Bob Arum no longer calling the shots as Cotto's promoter, apparently the fight became much more easier to make. One has to wonder how many other fights would be just as easy to make without the presence of Arum.
[ Follow Ben Thompson on Twitter @fighthype ]