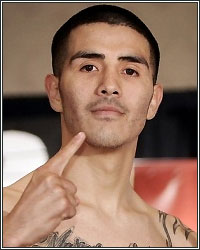 "I am just going to be ready for a tough fight. He is a top contender and in the position to fight me so I am ready for him and I hope he is ready for me...I feel good and strong. I am ready to rock and roll on April 14 to show the world I haven't gone anywhere...What drives me is I love my sport and I love what I do. A lot of fighters do it for a job – I do it because I love it. It's my high. It's like my Ritalin. I am very hyper and it calms me down a lot. If I didn't do this, I don't know where I would be right now," stated former lightweight champion Brandon Rios, who talked about his upcoming April 14 clash with Richard Abril during a conference call to promote the bout. Check out what else he had to say!

BRANDON RIOS: Training camp has been going well. This is the first time I have felt this good in camp. Richard Abril – I don't know too much about him and I haven't seen much video. It's kind of hard. I know [trainer] Robert [Garcia] has seen film on him but I haven't. I am just going to be ready for a tough fight. He is a top contender and in the position to fight me so I am ready for him and I hope he is ready for me.

Tell us about the first encounter you had with Richard Abril at the Miami press conference.

BRANDON RIOS: I went there because the press conference was supposed to be with Gamboa. All the sudden this guy came in…I guess he was a friend of Gamboa and he didn't show up so I was already heated up and everything. Abril started talking smack so I assumed it was his friend. He came up to me and said, "I want to fight you." I said, "Who are you? You look like an average guy on the street with a tuxedo on." He kept running his mouth saying, "I am the champion and you are nothing." I said, "You are the champion and you want to fight me? There is my manager right there, Cameron Dunkin." Then he told me to talk to him in Spanish because he didn't know what I was saying. I said, "If you don't know what I'm saying then get the F_ _ _ out of here." Then we got face to face and he pushed me. I will never forget that he pushed me.

How is it to have to change from a fight against Gamboa to Abril?

BRANDON RIOS: It's not too hard. I am a fighter, I'm a warrior. It's my job and I love my job. I love to fight. Whoever they put in front of me in the ring – I don't care who it is – I'll be ready. That is what I train for. If anything changes, I am ready. It doesn't matter to me. If it is Gamboa, Abril, or Mike Tyson, it doesn't matter. I'll fight them. I have had a tremendous training camp and I can say nothing bad about it.

Do you feel it is unfinished business and would you like to fight Gamboa in the future?

BRANDON RIOS: It is not unfinished business because we never fought. He called my name out. I showed up in Miami. I have nothing to prove. He didn't show up. I have nothing to prove to this guy. I didn't mention his name once. He said he wanted to fight me, Manny Pacquiao, this guy, that guy, and when it came down to it, he was nowhere to be found. If I called him out he would say "yes," then no show up to anything. He is a coward.

Have you changed training to have an easier time making the weight that you have been having trouble with?

BRANDON RIOS: First of all, we hired a nutritionist, Cecilio Flores and he is helping out well, the weight is coming off well. Cecilio is helping out a lot. I feel good and strong. I am ready to rock and roll on April 14 to show the world I haven't gone anywhere. And I think I train better when I am at home. I am with my family and my wife and friends. When I went to México, don't get me wrong - it was great experience training beside Margarito and the altitude. Honestly, I feel better when I am at home in my own gym. It's nice weather here – it's not too cold, I get a good sweat in. Robert is mainly focusing on me right now.

Following the Murray fight, Gerry Cooney said that if American heavyweight's had Rios' balls, we'd have an American heavyweight champion.

BRANDON RIOS: What drives me is I love my sport and I love what I do. A lot of fighters do it for a job – I do it because I love it. It's my high. It's like my Ritalin. I am very hyper and it calms me down a lot. If I didn't do this, I don't know where I would be right now. I think I'd be locked up. And maybe I will go up to heavyweight now so we can have an American champion.

Who is your idol?

BRANDON RIOS: I always looked up to Julio César Chaávez Sr. and Diego Corrales. I looked up to them because I had the same style as them. I take a little off them and try to do it my way.

CAMERON DUNKIN: He doesn't remind me of anyone really. He has is own style. But what he said about he would know what he was doing if he wasn't boxing, Johnny Tapia used to say that a lot also - the passion and the love. Johnny went undefeated for so long and beat so many great fighters. Johnny was very hyper and just wanted to fight, just like Brandon. He is a pleasure to work with – he doesn't talk about money, they just want to fight and you want to make them money. I talked to Todd [duBoef] about that and he said he does want to make him money because it is a passion. He draws all of that out of us and we love to watch him fight and we all want to root for him because he is a great guy.

What did you think about Brandon after he couldn't make weight having to fight the next day?

ROBERT GARCIA: I have been with Brandon for many years – through the amateurs – so I have gone through many things like that with him. Not just the weight – personal problems and we fight through them. That was just another thing that happened. He weighed in a pound over then we went to sweat it off at a hot spot we found and we came back 1 pound more. There were people and cameras all over. The scale was moved. There is no way he came back a pound heavier. I can't say that he lost the .6 he needed to but there was no way he gained another pound. So we just said forget it and moved on and now we are fighting for the title again. I think he will get his title then look for bigger things. Brandon is very strong mentally and physically and that's what gets him to the top. He will look good and strong and knock this guy out in the 10th or 11th round I believe.

How hard was it to lose your title on the scale?

BRANDON RIOS: It was horrible because nobody beat me. I lost it myself. I was down for a while because I lost my title. I had to get over it and my wife helped me a lot. She talked to me and told me not to mess up my career. So I thank Cameron Dunkin, Top Rank and the WBA for letting me fight for my title again. I want to get my title back again to show the world what happened in New York was a fluke.

Do you look at Juan Manuel and see that he had so many disappointments and is still a great fighter at 38?

BRANDON RIOS: There are very few fighters that can do what Márquez does. He is one of the best out there. He's a great counter-puncher and a great technician. He's still got it and that's why he is still fighting. He is nice, polite and very likable and gives the fans what they want. He's a young 38. He'll be ready and it's going to be great. I'm happy he's on the same card. It's going to be a great card because there are exciting fights on there.

In what area has the nutritionist helped the most?

BRANDON RIOS: He is cooking great. I am eating great. I feel strong and training hard as usual. Now I have the power and the force to train even harder. Before I was eating chicken, fish and rice but now, two weeks out, now we are cutting back and he is doing a great job. This is the smartest move I have made in my career. And it's paying off very well right now.

What about the future?

BRANDON RIOS: We talk about it but right now our concern is Abril. The guy is an unknown and they are the most dangerous guys because they want to prove a point. So we have to be ready and be calm. So that's what we are focused on.

ROBERT GARCIA: I want to thank the media for their support and we have the best manager in Cameron Dunkin that will manage the rest of Brandon's career and we have one of the best training camps in the world.

BRANDON RIOS: I want to thank Top Rank and the best manager out there for being on my side through the rough times. I want to also thank the fans and my wife for giving me another beautiful child.

BOB ARUM: This is a great card. We talked about the top two fights on the card but there are also the other two great fights. I think fans are going to be entertained whether they watch it on PPV or at the Mandalay Bay.


---
Méxican legend and three-division world champion JUAN MANUEL MÁRQUEZ and undefeated former World Lightweight Champion BRANDON "Bam Bam" RIOS will headline a world championship pay-per-view event that's so big its main events are originating from two different countries!
Márquez will go for an historic fourth world title in as many different weight divisions when he takes on World Boxing Organization (WBO) European junior welterweight champion SERGEY FEDCHENKO for the vacant WBO interim 140-pound world title. Márquez-Fedchenko will take place in México City's brand new Arena México. Rios will attempt to reclaim his old title when he rumbles with Cuban gladiator and World Boxing Association (WBA) interim lightweight champion RICHARD ABRIL in a battle for the vacant WBA lightweight title, Saturday, April 14, at Mandalay Bay in Las Vegas.
The Márquez/Rios world championship event will be produced by Top Rank and distributed Live by HBO Pay-Per-View®, beginning at 9 p.m. ET / 6 p.m. PT.
The live pay-per-view telecast (SRP $44.95) will also feature a 10-round junior welterweight collision of top-10 contenders -- "Mile High" MIKE ALVARADO and MAURICIO HERRERA -- and open with undefeated Top-10 contender MERCITO "No Mercy" GESTA of the Philippines, risking his record and world rating in a 10-round lightweight fight against OSCAR CUERO. Boxing fans at Mandalay Bay will also see the Márquez-Fedchenko world title fight live, via closed-circuit, on a jumbo screen.
These warriors boast a combined record of 188-16-4 (122 KOs) – a winning percentage of 90%.
Promoted by Top Rank, in association with Zanfer Promotions, Tecate and AT&T, remaining tickets priced at $250, $150, $100, $50 and $25, not including applicable service charges, are available at all Ticketmaster locations (select Smith's Food and Drug Centers and Ritmo Latino). To charge by phone with a major credit card, call Mandalay Bay at (877) 632-7400 or Ticketmaster at (800) 745-3000. Tickets are also available for purchase at
www.mandalaybay.com
or
www.ticketmaster.com
.