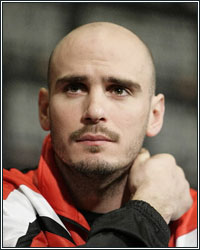 What should come as no surprise to anyone other than Winky Wright, promoter Bob Arum informed ESPN.com that middleweight champion Kelly Pavlik will indeed be facing Gary Lockett in his first title defense. On Sunday, Joe Scalvo of vindy.com broke the news that plans for a fight between Pavlik and Lockett were nearly complete and an announcement could come as early as Tuesday. Sure enough, earlier today, Dan Rafael confirmed it.

According to Rafael's report, Pavlik will defend his middleweight title against WBO mandatory challenger Gary Lockett on HBO World Championship Boxing. "We're going to decide on the site, the Garden or Atlantic City, this week but we have to sift through the offers. But it will probably be Atlantic City," stated Arum. "But everything with the fight has been agreed to. [Lockett promoter Frank Warren] has the papers. It's not fully executed, but it's verbally agreed to."

Although all the details have yet to be ironed out, Arum also stated that the fight is tentatively scheduled for June 7th, but that date could be pushed back to June 14th in order to showcase a tripleheader featuring rising middleweight contender Andy Lee as well as super bantamweight contender Juan Manuel Lopez.

Assuming Lee gets past his March 21st fight with Brian Vera, Arum hopes to match him against Marco Antonio Rubio as the opening bout of the tripleheader. Puerto Rican sensation Juan Manuel Lopez will also be featured on the card against his toughest opponent to date when he steps up and challenges WBO super bantamweight champion Daniel Ponce De Leon. Given the fact that it's become rare for HBO to show two live fights on World Championship Boxing, a tripleheader should be a welcome change for fans who have grown accustomed to watching only one fight along with the previous week's replay.

Despite reports that there was a strong push for a Pavlik-Wright clash, Arum stated that of the names on the short list of potential opponents, HBO actually preferred Lockett. The fact that he's trained by Enzo Calzghe, father and trainer of super middleweight king Joe Calzaghe, adds a storyline for a potential Pavlik-Calzaghe clash in the future. "It sets Kelly up maybe to eventually fight Joe Calzaghe," said Arum. "Joe will probably be around the fight and maybe we can get something going with him. Besides, Lockett is a mandatory, so Kelly would have to fight him at some point anyway."

Cameron Dunkin, Pavlik's manager, added, "I like the Enzo Calzaghe angle and from the tapes I have seen, Lockett is a tough guy and it's our mandatory. I think it's a heck of a fight. I think he's well schooled and I think he can be a pretty tough opponent."

Unfortunately for Winky Wright, it looks like he'll have to find someone else to extend his $4 million offer to as he's now left standing on the outside looking in with no marquee opponent in sight. Perhaps he should rethink his stance on not fighting friends as I hear Roy Jones Jr. is still looking for an opponent. Seeing as how Calzaghe is moving up to light heavyweight while Jones is still willing to fight at 168, one might say that a clash between Wright and Jones is the biggest fight that can be made at super middleweight. Perhaps someone can get hard at work at making that fight happen as it's certainly a much bigger and better matchup than the rumored clash between Jones and Markus Beyer. After all, friends fighting friends is hardly unheard of...especially if the money is right!
[ Follow Ben Thompson on Twitter @fighthype ]