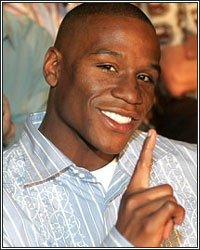 In a recent conference call to promote his upcoming clash at Wrestlemania XXIV, pound-for-pound king Floyd Mayweather Jr. revealed that he was unhappy with the fact that his uncle and trainer, Roger Mayweather, is currently working with Steve Forbes to prepare him for his upcoming May 3rd fight with Oscar De La Hoya. Apparently, Money Mayweather is concerned that Roger might actually do his job and help Forbes pull off the upset, ultimately ruining a huge payday in a September rematch with De La Hoya.

"My uncle Roger has been training Steve Forbes and if Steve Forbes beats Oscar, it's taking money out of my pocket," Mayweather explained. "For him to train Steve Forbes, he is taking a ton of money out of his own pocket. He is jeopardizing millions...he wants Steve to beat De La Hoya but if he beats him, then everyone around me sees the fight go down the drain."

Mayweather went on to state that he may have to find a new trainer if Roger didn't stop training Forbes immediately. "If it's not done within a couple of weeks, I'm getting a new trainer," he remarked. Mayweather even went so far as to say that he might be willing to pay his dad more money than what De La Hoya is currently paying him in hopes of bringing him back to train him. More to follow.