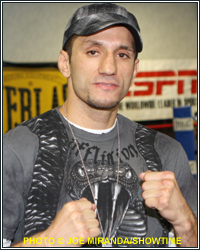 Sergio Mora, in his first world championship fight, wrested the WBC Super Welterweight belt from veteran champion Vernon Forrest with a hard-fought majority decision at Mohegan Sun in Uncasville, Conn. Ringside judges scored the bout 116-112, 115-113 and 114 a piece.

In the co-feature Saturday on SHOWTIME, Paul Williams recaptured the WBO Welterweight title that he lost to Carlos Quintana in February with a spectacular first-round TKO.

The SHOWTIME CHAMPIONSHIP BOXING world title doubleheader was presented by Gary Shaw Productions, LLC, and Fight Nite, LLC, in association with Tournament of Contenders, LLC, DiBella Entertainment, Goossen Tutor Promotions and Northeast Promotions.

"We treated this like a once-in-a-lifetime opportunity," said an elated Mora of his title shot and he seemed to fight with more intensity, conviction and urgency than the defending champion.

At 37 years of age, Forrest is nine years Mora's elder and a three-time world champion. In the middle of the bout, Forrest complained to trainer Buddy McGirt of being winded and failed to answer the high pace that Mora set.

"I just couldn't get off," said Forrest following the decision. "He's got a herky-jerky style that threw me off. Congratulations to Sergio. He fought a very good fight, a really technical fight and he was the better man tonight."

Forrest of Atlanta, Ga., falls to 40-3 (28 KOs) and says he will go "back to the drawing board" to see what fights are out there for him next.

Mora, now 21-0-1 with five knockouts, is in the catbird seat as the WBC 154-pound belt-holder. Mora had fought most of his professional bouts at middleweight, but there are multiple big-name fights out there at 154. Only time will tell what will matriculate for the young champion.

"He fought a sneaky and very smart fight," said SHOWTIME analyst Al Bernstein after the telecast. "He closed the distance and kept up a very high work rate on the inside."

Williams, 34-1, of Aiken, S. Carolina, notched his 25th professional knockout by stunning, then devastating Quintana with big punches to the head. Following up on a early knockdown, Williams cornered Quintana and unleashed a few devastating hooks and straight left hands that forced the referee to halt the bout just 2:15 after the opening bell.

In the lead up to the fight, Williams had said he wanted to show more passion and energy. He hadn't had a big knockout victory over a top 147-pounder in his career. Saturday's was an emphatic win for the 26-year-old, now two-time world champion.

SHOWTIME CHAMPIONSHIP BOXING's Steve Albert and Al Bernstein called the action from ringside with Jim Gray serving as a roving reporter. The executive producer of the SHOWTIME telecast was David Dinkins Jr., the producer was Ray Smaltz with Bob Dunphy directing.

Saturday's SHOWTIME CHAMPIONSHIP BOXING fight card will re-air as follows:

DAY || CHANNEL
Tuesday, June 10, at 10:00 PM ET/PT || Showtime Too

The telecast also will be available at SHOWTIME On Demand beginning Tuesday, June 10, through Monday, July 7.

For more information on SHOWTIME Sports, including exclusive behind-the-scenes video, photo galleries and complete telecast information, please visit http://www.SHO.com/Sports.